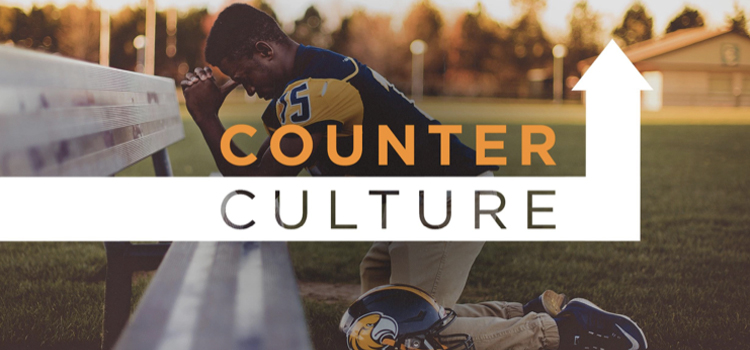 We're all about saving youth ministry leaders time and money.
That's why we're giving away one of our best selling series FOR FREE for a limited time!!! We don't do this often. So be sure to download it while you still can.
NOTE: The series is available to download for free now through Thursday, August 15.
Counter Culture is a 4-week series showing students how Jesus teaches a better way of life that often seems opposite to our culture.
Here's an overview of the series:
Lesson 1: Love Your Neighbor
Bible: Matthew 22:34-40; Luke 10:30-37
Bottom Line: The words of Jesus call Christians to look past the things that divide us and to love those around us.
Lesson 2: Love God
Bible: Matthew 6:33, 7:21-23
Bottom Line: The life of a Christian must be lived IN Christ, putting God first in every area.
Lesson 3: Love to Follow
Bible: Luke 18:18-23
Bottom Line: Following Jesus requires us to be willing to give up what we think is a good life for an even better one.
Lesson 4: Love to Forgive
Bible: Mark 11:25
Bottom Line: Jesus calls Christians to forgive others just as He has forgiven them.
A quick story…
When starting my journey as a ministry leader, I was young and single. I spent just about all my time doing ministry related stuff: planning events, building relationships with students, coordinating weekend services, recruiting/training volunteers, etc.
I was also a full-time seminary student.
I had a passion for pointing students to Jesus and being a part of what God was doing in the lives of young people.
I eventually graduated from seminary, fell in love with my wife Jena, got married and had three kids pretty close together (all about 1 1/2 years apart).
Juggling the needs of a young family and ministry were difficult. I struggled for years with trying to balance the two.
So, I took 1 ½ years off of full-time ministry, transitioning into another non-ministry job during that time.
Then, I went back into full-time ministry after that. I learned a lot about during that time off. A lot of lessons that I took with me going back into full-time ministry.
Worst case scenario is that the "lack of time" issue leads to burn out.
What frequently happens is you live with the tension, anxiety, and stress of "never getting it all done".
I believe the lack of time is one of the biggest challenges youth ministry leaders face.
If you just had more time, you would:
Be more effective at pointing students to Jesus.
Develop relationships with more students and train other leaders to do the same.
Build a bridge of communication and partnership with parents, church leadership, and others in the church.
Recruit the right volunteers and put them in the right place.
In fact….
That's one of the main reasons our team created Ministry to Youth (this website) back in April of 2014.
We create a ton of FREE (and paid) youth ministry lessons and games, so you can SAVE TIME.
Instead of creating lessons and games from scratch, you can save a ton of time by using our youth ministry resources.
More specifically, our goal is to save you 3-5 hours a week. If every week we could give you 3-5 hours of your time back, imagine the implications of that.
If lack of time is an issue for you, how much more of an impact could you make if you had more of it?
Part-time & bi-vocational youth ministers would have more time to serve the needs of their youth group.
Full-time youth pastors would finally get some wiggle room in their overly busy schedules, so they can focus on the important stuff that makes a difference in the lives of students.
You would have more time to build a bridge of communication to parents and the church so that they would begin to support the youth ministry.
You would have more time to recruit and train volunteers.
You and your team would have more time to build relationships with students outside of youth group.
Time is a limited resource. An extra 3-5 hours a week would help you get closer to a having a truly remarkable youth ministry. It would help to close the gap between reality and your youth ministry's vision to change the world.
It would enable you to create an amazing youth ministry where students come into a relationship with Jesus, grow in their faith, serve the community, and impact the world around them.
I'm so excited to help you make this kind of difference in the lives of young people!
Since we launched this website in April of 2014, our audience has significantly grown. We have over 100,000 youth ministry leaders a month from around the world visiting our website.
Thousands of youth ministers use our free and paid youth group lessons and games, which means they save a ton of time each week.
Over 100,000 youth workers get our emails each week – loaded with free lessons, games, etc.
We have a highly engaged Facebook community.
It's so awesome to be a part of all of this.
Yes, a lot of the lessons and games we create are free. That's cool. But we do have a ton of youth group series and games for sale on our website.
We always have some type of bundle available to save you some money.
Then, every so often we put together an enormously big bundle of lessons and games that lasts for a limited time.
(Psssss….this Friday the biggest youth ministry bundle ever is going live. Details coming soon).
Pretty cool.
Now, some of you might think that it's your responsibility to come up with youth ministry lessons all on your own. Or maybe you simply prefer to do this.
I get it. In fact, I often feel the same way. Even though I have all these amazing messages at my fingertips, I frequently create my own lessons from scratch.
If you feel this way too, here are a few reasons it is extremely helpful to use youth group lessons that are already created for you.
Reason #1 – You need a break from the grind.
Many of you lead Wednesday night and weekend services, which requires you to come up with at least 2 messages each week. Some of you are in charge of small groups and/or Sunday School as well.
The grind of creating that many messages/lessons every week can wear you down. So, it's nice to have youth group lessons and series at your fingertips when you need a break from the grind.
Reason #2 – Use the created lessons as the foundation of your messages.
The idea of using lessons already created for you doesn't mean that you read a script. Take some time to make it your own. Customize it and add you're own creativity. Add what God is speaking to you and your students.
At the very least, it's really helpful to use an already made lesson's main idea, Bible verses, series flow, etc., as the foundation of your messages. Sometimes coming up with that foundation takes the most amount of your time. We've already done that for you.
Reason #3 – You need ready to go lessons for your team and/or volunteers.
Many of you have a team of volunteers, staff, and/or interns. It is often difficult for them to come up with their own lessons on a regular basis. It would be helpful to use the lessons we create and give it to them. They're ready to go lessons your team can spend minimal prep time on. Nice.
Reason #4 – Artwork is already done.
On all our paid series, the artwork is already created for you. Both the cover image, and the blank text slide. Use that artwork to post info about the series on social media, website, student outlines, presentation software, etc.
If you created your own artwork, you would spend a good amount of time doing so. Or you would have to pay someone else to do it. Either way, we've got it all done for you…saving you time or money.
Like I mentioned before…
This Friday we launch the BIGGEST youth ministry bundle ever. It's going to be awesome! And we've got some AMAZING prizes for the first to order the bundle.
We announce the details on Wednesday.
GO HERE
to get notified when those details are released.
Nick Diliberto, Ministry to Youth