HOW WE SURVIVED MEXICO AND THE LESSONS WE LEARNED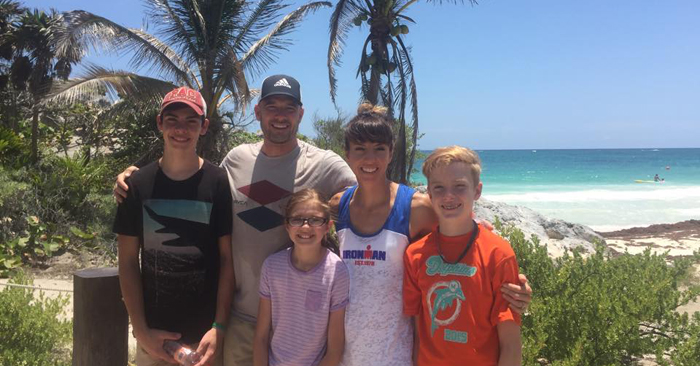 A couple of months ago our family of 5 took a vacation to Tulum, Mexico.
It was both the vacation from hell, and the vacation of a lifetime.
Much of the trip seemed like we were in a real life version of the movie, National Lampoon's Vacation.
I'm going share our epic journey with you and the many life lessons we learned along the way.
Yes, this is a bit off topic from youth ministry, but…
It's my hope that your life will be enriched through the life lessons we learned in this really insane family trip.
WE FINALLY MAKE IT TO THE AIRPORT AND THE AIRLINE AGENT TELLS US WE CAN'T GET ON THE PLANE.
WHAT?!?!!
You have to understand. It took us aaaaaaaaaaaaaall weekend to pack!
After all, there's 5 of us. Myself, Jena my wife, and our three kids – Ethan (14), Joey (12), and Emma (10).
We've got a lot of stuff packed in our suitcases because it's our first international trip as a family.
We're going to Mexico and from what I hear…we have to watch out for the Mexican Mafia. They might kidnap us.
At least that's what my dad says. He doesn't travel much.
We had to pack up the SUV, drive 45 minutes, park our car at my mom's house near the airport, unload the SUV, put all our stuff in a taxi, drive to the airport, unload all our stuff from the taxi, then wait in line to get our bags checked in……all to be told we can't get on the plane.
Why?
Because our connecting flight in Houston isn't going to fly today. Nope. Lots of flooding in Houston.
After exploring all our options, we decide to fly to Atlanta instead of Houston. We'll stay the night there, then the next day fly out of Atlanta to Mexico.
Bummer.
We make the best of the situation, and off we go to Atlanta.
SPRINTING THROUGH THE AIRPORT IN MY BARE FEET.
The next day, we wake up and go downstairs where the shuttle is going to pick us up.
The shuttle takes a lot longer than expected.
We arrive to check-in our bags 45 minutes prior to our departure.
The Southwest Airline agent tells us we can't make the flight.
NO…..NOT AGAIN!!! GRRRRRR!
We're told that we were supposed to check-in at least 1 hour prior to departure.
Jena, my wife starts to cry. The kids are stunned. I'm about to chew off the airline agent's head (I really wanted to).
We beg and plead for her to figure out a solution. After all, we still have 45 minutes to get to our gate!
She resists at first, calls her manager over, and they figure out a way to manually enter us into the system and check-in our bags.
There's a catch – our bags won't arrive until 24 hours after we land…that is IF we even make it to the gate on time!
Whatever. Game on. Let's do this.
We each rip out of our luggage one day's worth of clothes, grab our toiletries, and put it all in our carry on bags.
The airline agent takes FOREVER to manually check us all in.
Finally, she gives us our boarding pass and wishes us good luck.
We now have 25 minutes to get through security and to our gate.
We might have enough time. We hope.
We arrive at security only to see about 100 people in line waiting to get through.
We rush over to the first class entrance where there is no line and beg the security guy to let us through. All 5 of us are a mess. I'm yelling, the kids are frantic, and Jena is talking to him with her "momma voice".
He lets us through. Thank God!
Now, we only have about 15 minutes to get to the gate.
Unfortunately, we have to take a train to get there. It's a big airport and our gate is far away.
While waiting in line for the train to arrive, we're told by an airline pilot that our gate is the first one when we exit the train.
Awesome.
The train takes unusually long to arrive, but it finally does.
I take my flip flops off, burst out of the train in a full sprint up the escalator looking for our gate.
The airline pilot lied. Our gate is about 200 yards away.
By this time, our flight departs in just a few minutes.
I run full speed in my bare feet, bumping into anyone in my way, for about 200 yards. Jena and the kids are trailing behind me.
I had a flashback from a scene in the movie, Home Alone II, when the family was in a similar situation. That was a funny scene. What we're experiencing in this moment…not funny. Very stressful.
I see our gate and yell at the top of my lungs, "We made it. We made it. We made it!!"
They said, "Good thing because we were about to close the gate."
Jena and the kids catch up, and we board the plane.
Whew, we made it. We're finally on the way to Mexico.
Jena and I are emotionally exhausted, and we haven't even started our vacation.
SOMETHING GOOD FINALLY HAPPENS
We finally make it to Cancun, Mexico.
Jena says we might want to check the baggage area because maybe our bags made it to the airport.
We have to drive an hour and a half to Tulum today. So, the last thing I want to do is make a 3 hour round trip tomorrow to get our luggage.
BAM….all our luggage was waiting for us. Thank you God!
OUR CAR KIND OF BLOWS UP AND THE A/C STOPS WORKING….IN THE MIDDLE OF MEXICO!
I'm on the lookout for anyone who might belong to the Mexican Mafia. Don't spot anyone. I think we're safe for now.
We take a shuttle to the car rental place, wait in line a really long time, and get our car rental.
The car is old and not in the best shape.
And it's on EMPTY…so we had to stop by the nearest gas station and fill up. Then, stop and eat lunch because we are starving.
We finally hit the road.
We drive for about 20 miles when the A/C stops working. It's about 90 degrees outside. We all get hot, sweaty, and sticky really quickly. My daughter starts screaming because she is soooooo hot! We're all pretty miserable at this point.
Then, the car starts to make a really loud noise. It sounds like the car is going to blow up. The noise doesn't go away.
We have to turn around, go back the car rental company 20 miles away in a hot car that's making a really loud noise.
We finally make it there and get a new car, which is also on EMPTY.
We fill up the car at the same gas station we stopped at over an hour ago.
Back on the road…again.
OUR MEETING WITH A STRANGER IN THE PARKING LOT OF A GROCERY STORE
The rest of the hour and a half drive to Tulum goes pretty well.
I wait till the right time (minutes before we arrive) to inform my wife of the plan to meet up with the owner of the house we rented on AirBNB in Tulum.
We're supposed to meet him in the parking lot of a grocery store.
The fear my dad put in my head about the Mexican Mafia surfaces.
I imagine this guy busting out a shotgun, killing us all, stealing all the cash I'm carrying, and all our belongings.
At the airport, I exchanged a large sum of money. We're not staying at a hotel or resort, and I was told a lot of restaurants and local businesses don't accept credit or debit cards.
So, I'm holding a lot of cash..in Pesos. I'm an easy target.
Fortunately, our AirBNB hosts, Glenn & Monica, were the nicest and most hospitable people we've ever met.
We followed them to the house, which was difficult to find from the main street (that's why we met at the grocery store).
The house was amazing. We paid less than what we would have paid at a hotel, but got an entire house with a pool. Nice.
Glenn and Monica were super hosts. They told us all about the best local restaurants to eat at, and all the best destination spots to visit.
Over the next few days, we took their advice and ate at those restaurants and visited those destinations. They were all places off the grid. Places we would never have found without Glenn and Monica.
Thanks to them, we experience Tulum like locals, rather than tourists.
TULUM IS AWESOME
The next few days are amazing.
We visit the Mayan Ruins in Tulum and Coba. Amazing. Breathtaking.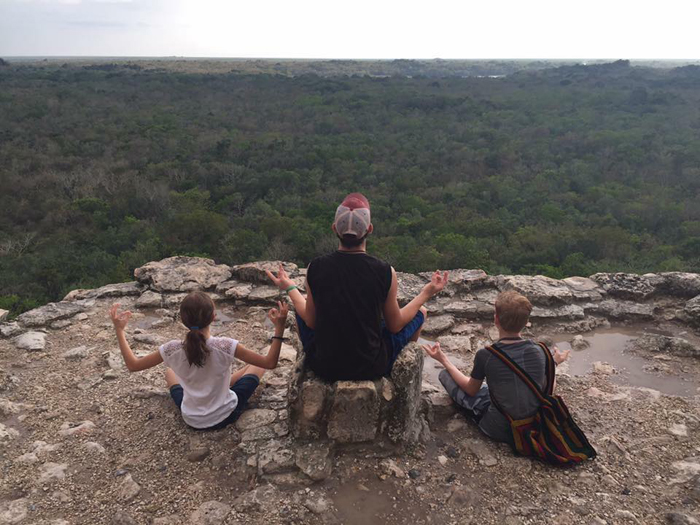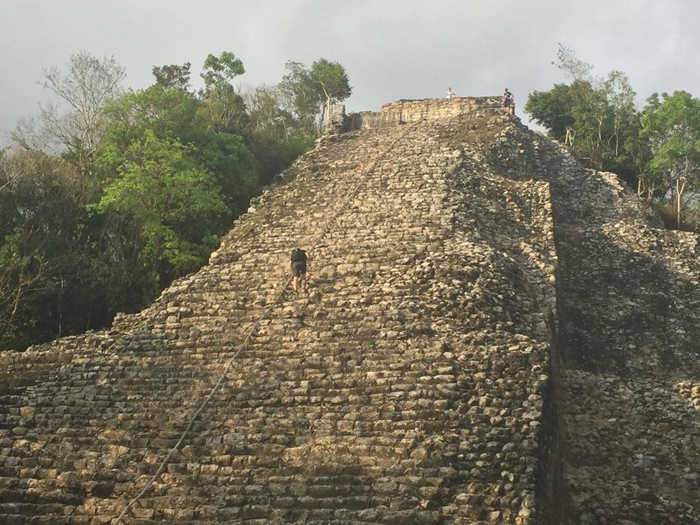 We go snorkeling in the coral reefs of the Caribbean Sea.
We go swimming in a cenote, which is an underground cave with a lake in it.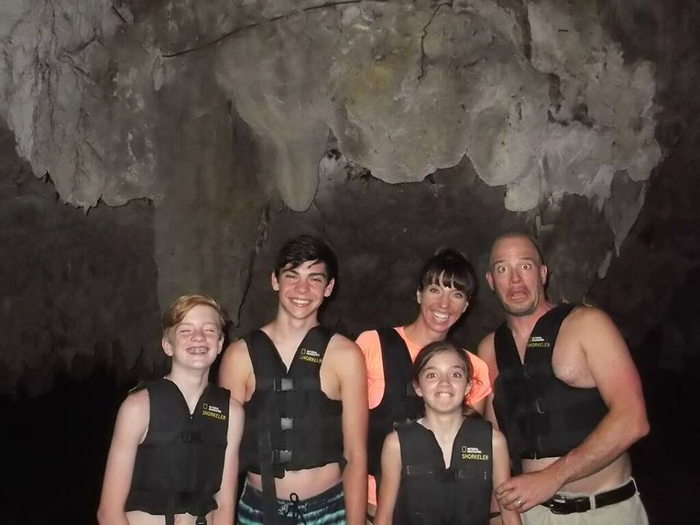 We go to the beach, swim in the pool, shop in downtown Tulum, and enjoy dinners on the beach.
We spend lots of quality time together, enjoying each other's company.
WE'RE ON OUR OWN IN A FOREIGN COUNTRY.
However, the rest of our trip wasn't all rainbows and butterflies.
We fought like cats and dogs…a lot.
It's just what happens when you take 5 human beings and go on an international trip together.
Since we were out of the hotels and resort areas, we were on our own.
There were language barriers to overcome, and quite honestly it was stressful being out of our normal routine of life.
Out of the safety of a resort.
We shopped at a new grocery store for lunch and breakfast food. It was different from where we shopped at home.
We were surrounded by poverty, which is not what we're used to back home in the suburbs of New Orleans.
And then we meet….
A GUY WITH A MACHETE IN THE MIDDLE OF THE MEXICAN JUNGLE
After a few days in our rental house, we had to move to another rental house due to a mix up with the reservations.
I discovered this mistake a few days before we left for Mexico. Luckily, we were able to reserve another house nearby.
Unlike the first house, this one is in the middle of the jungle about 5-8 miles away from any living human being.
We take a turn off the main road, and go about a half a mile down a dirt road to reach the house.
We get out of the car to talk to a real estate agent who is acting as our host.
As we walk approach the house, I notice about 4-5 Mexican men surrounding the property.
I ask the real estate agent about the men and am told they take care of the property. It's a big house, with a natural lake on it, and it sits on a huge amount of land with chickens, monkeys, and other animals.
That might sound really expensive, but it wasn't. We paid less than the cost of staying at a nearby hotel.
I was then notified they actually live elsewhere on the property.
Then, I looked at one of the men who came out of the jungle carrying a machete! I just knew he was a part of the Mexican Mafia and was going to attack us in the middle of the night.
After all, he and the other men had the key to the house. They could break in. We could scream as loud as we wanted, but no one would hear us.
So, that night I hid 2 kitchen knives under my bed.
Just in case they broke in. I would at least have a fighting chance.
No one broke in. We were safe.
Another thing…
Although the house was beautiful and big…there were a lot of unwanted visitors inside the house: big spiders, lizards, and other insects.
I imagined them crawling on me while I was asleep. It was a bit creepy.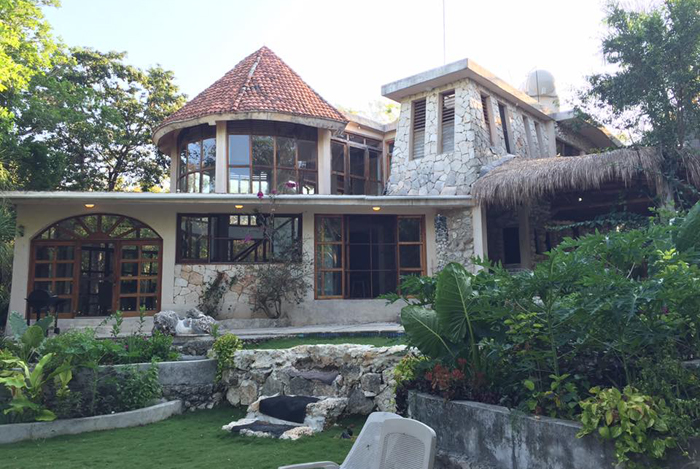 WE CRASH THE CAR…TWICE.
We enjoy the next couple of days in Tulum.
On the last night of our stay, we crash the rental car into a post, which made a huge dent in the front passenger side of the vehicle.
The next morning we back into a tree. Another dent in the rear bumper.
I didn't pay extra for the rental insurance.
Not cool.
WE SEE A FEW LITTLE FRIENDS ON THE WAY OUT.
As we travel down the dirt road traveling to the main road, we see a couple of monkeys just hanging out in the jungle.
It was an amazing moment.
We sat there in amazement as we saw a daddy monkey staring at us, while behind him, the momma monkey was holding a little baby monkey.
We called the monkeys to come to us.
I imagined the daddy monkey all of sudden going nuts and ripping our eyeballs out.
Thankfully, that didn't happened.
They carried on and did their thing. Whatever monkeys do. I think they liked the attention.
After a few minutes, we drove away.
We were on our way home, and we were all ready to get there. It was a long week.
Full of both amazing and horrible moments.
It was both the vacation from hell, and the vacation of a lifetime.
THE LIFE LESSONS WE LEARNED
If you're still with me…thanks for reading our entire story. I know it was long.
Here's some life lessons we learned though our crazy adventures.
LESSON #1 – LIFE IS RICH WITH ALL TYPES OF EMOTIONS. EMBRACE THEM ALL.
God created a full spectrum of emotions for a reason. It wasn't by accident.
During our Mexico trip, we experienced just about every emotion possible – joy, fear, love, hate, awe, boredom, stress, peace…the list goes on.
We often embrace the good emotions, but ignore or stuff down the bad ones.
Savor the good emotions.
Pay attention to the negative ones because they are often a message to you that something needs to change.
If it's within your power to change the circumstance, then take action towards improving the situation.
If there's nothing you can do about the situation, then realize you have a choice in how you perceive the situation.
Most of the time, there is a nugget of gold in the challenge, obstacle, or adversity you face. And if you surrender the situation to God, he will often show you the nugget of gold.
There's always a message behind the emotions. Look for it.
To be fully human means to experience the large spectrum of emotions given to us by our Creator.
Be grateful for it all. Live. Be human.
LESSON #2 – GOING THROUGH ADVERSITY WITH OTHERS STRENGTHENS YOUR RELATIONSHIPS.
In Mexico, we faced a lot of problems. But we experienced them together.
As a result, we grew a lot closer to each other.
Sharing a common adversity with others strengthens your bond with one another.
If you're going through adversity with others around you, lean into them. Cry together. Hug each other. Encourage each other.
If your facing problems alone, find some people to lean on. It's a lot tougher when you're all by yourself.
LESSON #3 – SAVOR THE GOOD MOMENTS OF LIFE.
My tendency is to experience an awesome life moment, then to simply move on to the next without taking time to really savor it.
However, when I experience a problem or failure, I hyper focus on it. I magnify the situation by dwelling on it over and over.
Do you do the same?
Why not give as much attention to epic life moments?
We experienced a lot of amazing moments on our Mexico trip, and I've taken a good amount of time to reflect on many of them.
As a result, those moments live on in my heart and mind.
Savor the good moments. Revel in them. Breathe them in. Celebrate them. Thank God for them.
Take some time to reflect on the great moments of your life – both big and small.
It could be as simple as spotting a humming bird outside your kitchen window or as huge as celebrating 20 years of marriage.
LESSON #4 – GET OUT OF YOUR COMFORT ZONE AND TAKE SOME RISKS.
Most people who go to Tulum or nearby Cancun hit the resorts. It's safe, comfortable, and predictable.
We wanted to experience Mexico as a local. It was a bit risky, but so worth it.
In life, it's easy to stay in the comfortable safe bubble of the life you create. Your friends. Your church. Your gym. Your family. Your routine. Your grocery store. Your habits.
There's a HUGE world outside that bubble. And it's full of risk, adventure, passion and purpose. You just have to get out of your comfort zone and face the unknown.
I'm talking about more than a family vacation here. I'm talking about how you live.
Listen to your heart. Listen to the soft voice of God.
How are you being called into the unknown?
Is it something to impact the world around you? Is it a challenge to stop a bad habit? A challenge to start a new habit? Or is it something else?
Whatever it is…do it.
Punch fear in the face and take the plunge.
WHAT'S NEXT?
I hope you found these life lessons helpful. I hope you enjoyed reading about our Mexico trip.
My family loves to travel. I always learn a lot about myself, others, and the world around me when we do.
I hope to share more lessons with you as we take more family trips over the next year or so. My hope is that each trip we take will provide some nuggets of inspiration, truth, or insight to others.
GET NOTIFIED when I write about our next family trip and the lessons we learn along the way.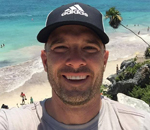 Nick Diliberto is the creator of this website, Ministry to Youth. He also leads the youth group at the Northshore Vineyard Church just outside of New Orleans, LA. Nick is one of the few 40 year olds who is a member of a dodgeball league in Uptown New Orleans. Yep, that means every Tuesday night he gets to play some dodgeball…oh yeah.