Junior High Lessons & Games
Here are some of our FREE Junior High lessons and games. Loads more are available in our online shop.
We help youth ministry leaders save time and money.
If you don't have to create lessons and games from scratch, you have more time to invest in the lives of students, volunteers, and parents.
Obviously, free content saves you money. Awesome! But "free" doesn't mean "low quality". Our team of writers, who are all youth ministry leaders like yourself, create these materials to be top notch—just like the lessons ad games available in our online shop.
You're saving time, you're saving money and, best of all, you're guiding students to Jesus with these free materials.
If you like what you find here, you'll love what's available in our online shop. The same high quality, but with bigger, more substantial content.
Check out the…
ONE YEAR CURRICULUM, VOL 3 – Save 82% on one year of Bible studies and teaching curriculum for youth ministry.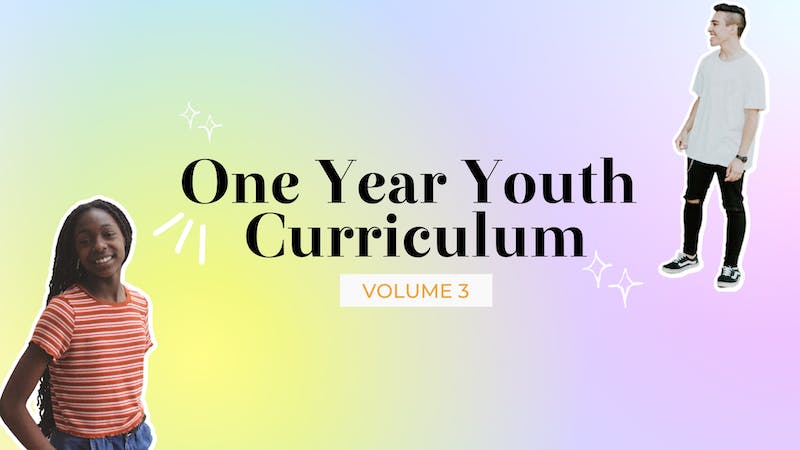 Your role as a youth ministry leader is vitally important. Whether you're a full-time youth pastor, bi-vocational youth pastor, or small group leader, YOU have the privilege of pointing students to Jesus. You get to join in on God's activity in the lives of young people. That's so cool.
Keep up the great work you're doing!
– Nick Diliberto, Ministry to Youth
Here's a list of our free Junior High lessons and games:
Game: Boredom Busters – 1 Corinthians 10:13
Lesson: Complaining – Philippians 2:14
Lesson: Prayer – Romans 12:12
Lesson: Disappointment – Psalm 42:11
Lesson: God's Word – 1 Thessalonians 2:13
Lesson: Self-Esteem – 1 Corinthians 6:19-20
Lesson: Valentine's Day – Colossians 3:14
Lesson: Popularity – Proverbs 29:23
Lesson: Dealing with Doubt – Jude 20-22
Lesson: Christmas Expectations – Luke 3:15; Luke 2:5; Luke 2:38
Game: Zip-Line Snowman Challenge – Galatians 4:4
Game: Epic Loot Battle – Luke 12:15, 21
Lesson: Self-Control – Proverbs 25:28; Galatians 5:22-23
Lesson: Thankful Thinking – Luke 17:11-17; Colossians 3:16
Game: Fall Sports Challenge – 1 Corinthians 9:19-27
Lesson: God's Love – 1 John 3:1-3
Lesson: Real Beauty – 1 Peter 3:3-4
Game: Mother's Day Game – Luke 2:19 and Psalm 119:11
Lesson: Cliques – Matthew 9:10-13
Easter Game: Extreme Egg Hunt – Luke 24:13-34
Lesson: Easter – Mark 10:45
Lesson: Repentance – Luke 5:27-32
Lesson: Heart Darts – Proverbs 27:19
Lesson: Encouraging Others – Hebrews 10:23-25
Lesson: Poverty – Luke 4:18-19; James 2:15-16
Game: Movie Madness – Luke 8:4-15
Game: Connections – Proverbs 16:9; Psalm 119:105
Lesson: New Year's – Matthew 13:1-9, 18-23
Lesson: Jesus' Birth – Luke 2:1-20
Game: Triple Gift Race – Matthew 2:1-8
Lesson: Laziness – Colossians 3:17; Proverbs 10:4; Proverbs 12:24; Proverbs 13:4; Proverbs 20:4; Proverbs 26:15
Lesson: Shine Your Light – John 1:1-18
Lesson: Fear – Psalm 34:4-5
Lesson: Patience – Psalm 27:14
Lesson: God Is In Control – Exodus 13:17–22, Isaiah 10:17a
Lesson: Gossip – Ephesians 4:29
Lesson: Friendship – Luke 5:17-26
Lesson: Trusting God – John 6:1-13, Ephesians 2:10
Game: Being Different – Genesis 1:27, Romans 12:2
Game: Choices – Philippians 4:8, 1 Timothy 4:12
Lesson: Imperfectly Following Jesus – Ephesians 4:15, Matthew 14:22-31; 16:13-27; 26:33-46, 58, 69-75; Luke 24:1-12, John 1:40-42; 21:1-25, Acts 2:14-41