10 Summer Games for Youth Ministry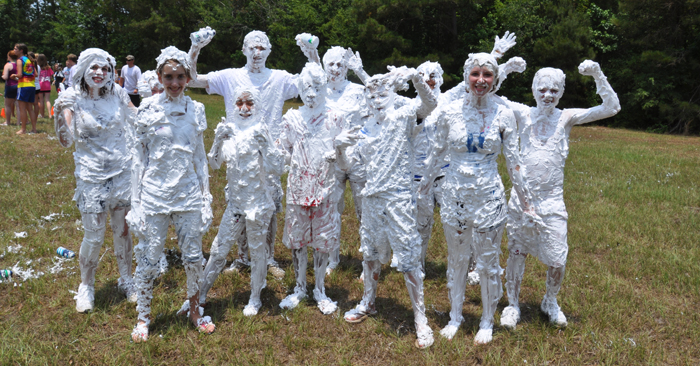 One thing I know about youth leaders is that we love games and are always on the lookout for new ones.
That's why we're giving you 10 free summer games.
Games Include: Baby Food Baseball (Character – 1 Samuel 16:7-12); Bun Length (Failure – Colossians 3:13); Hungry Games (Blessings – Luke 6:38); AND TONS MORE!

You can play each game "just for fun" or use the lesson included with each one. Do whatever you want with them. We love helping youth leaders save time and money. It's what we're all about!
The reason we're giving away all these free games (and these 9 free youth group lessons) is to save youth ministry leaders time and money.
The lack of time is a big challenge youth leaders face.
We know you're a busy youth ministry leader juggling a lot of responsibilities.
We want to help you have more time to build relationships with students, volunteers and parents.
We do that by creating awesome lessons and games, so you don't have to create them from scratch.
The lack of money in your youth ministry budget is another big challenge youth leaders face.
That's why most of the resources on our site are free. Nice 🙂
However, the free resources on our site aren't free to create.
We pay a team to create them. That's our way of making sure they're high quality.
Here's a quick overview of the ongoing free resources we create & publish on our website:
An ongoing collection of youth ministry games that includes lessons on various topics.
An ongoing collection of youth ministry lessons for midweek/weekend services.
Periodically, we'll release a big batch of free lessons and games (like we are right now).
An ongoing collection of youth group games on video (we curate, rather than create these videos).
Blog posts that equip youth ministry leaders (We pay our blog post writers….unless it's me, Nick, writing them). I know, the internet is filled with youth ministry blogs. However, our posts aren't typical. Each one approaches youth ministry from a very different & unique perspective.
How the Huge Youth Ministry Bundle Funds our Free Resources and Everything Else
The main way we fund all the free resources , and all the expenses that come with running a website (shopping cart, advertising, hosting, etc.) is through periodically releasing a HUGE bundle of youth ministry resources.
These bundles are only released a handful of times per year and are available to purchase for only 7 days.
In fact, we're launching the Huge Youth Ministry Bundle this Friday, June 17 at noon eastern U.S. time.
For $99 get $1,000+ worth of youth ministry lessons and games. That's a savings of about 90% on 2 years worth of youth group lessons and games 🙂
Now, the bundle is better than our free stuff because:
You get 2 years of youth ministry lessons and tons of games.
Lessons aren't one hit wonders like our free ones; they come in the 4-8 week series.
Lessons are more extensive and in depth than our free resources.
Artwork is included in all the series.
It's really a very cool concept if you think about it:
We continually create free youth ministry lessons and games.
You save a lot time & money, reinvesting that time and money into other areas of your ministry.
We mostly fund the creation of our free stuff by putting together a big bundle of resources every so often.
In that bundle, you get even more resources at an amazing price. As a result, you save even more time and money.
Mark your calendar for 4 days from now when we launch this…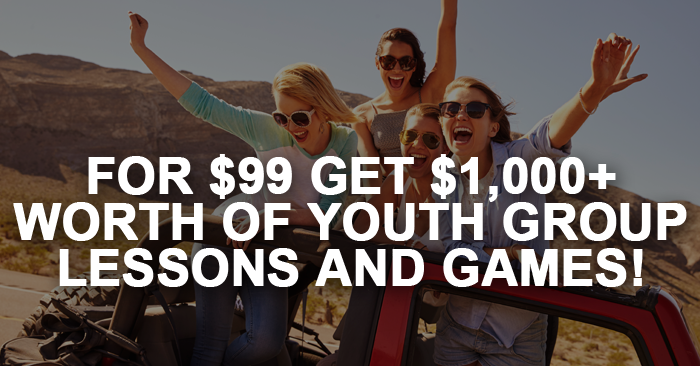 Once the bundle goes live, it only lasts 7 days.
Included in the bundle are our 3 newest youth ministry series: Summer Olympic Games, Made to Worship & Friendships.
These 3 new series if purchased individually would cost $105, which is more than the cost of the bundle. So, for less money than that you get those 3 series PLUS an additional $900 worth of youth ministry lessons and games!
That's pretty cool.
We're giving away some awesome prizes on opening day!
Prizes include $100 Amazon gift card, $100 ANYWHERE gift card, and…well…some other awesome stuff.