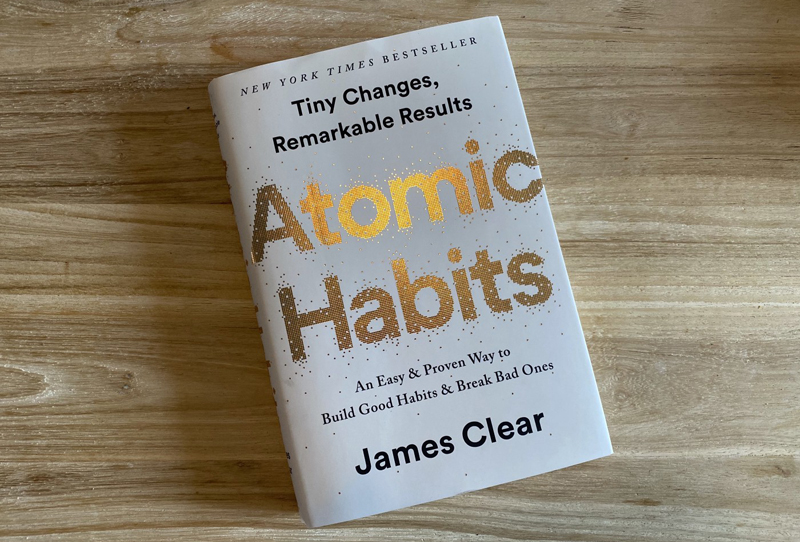 I just started the audiobook, Atomic Habits by James Cleary, and so far, I love it!
The basic premise is how developing small habits can lead to a 1% improvement and, over time, bring massive results. Pretty cool concept.
I give my wife, Jena, credit for this one. She's listening to it and has been telling me about it for a while. So, I finally downloaded it a couple of days ago.
Before diving into the book, I set the goal to form a few new habits this year.
My new habits include…
HABIT 1: Prep the coffee machine at night.
Now all I have to do is hit the start button in the morning, and the hot java is flowing. This shaves about 10 minutes off my morning routine.
HABIT 2: Shower at night rather than the morning.
This habit enables me to get started with the workday sooner. Combined with the coffee prep at night habit, I shave off about 25 minutes in the morning.
HABIT 3: Hide my phone.
I keep it on my desk during the workday but out of sight. If a text or phone call comes through, I pick it up immediately or ignore it until I finish what I'm doing. Before this, I would leave the phone on my desk where I could see it, and I noticed that throughout the day, I habitually checked it for no apparent reason. For me, this is a distraction.
While at home in the evening, I do something similar, putting it somewhere out of sight. Otherwise, I habitually check it, so I don't miss a text or phone call, which takes me out of the present moment.
HABIT 4: Consume less media.
I usually watch a streaming service like Hulu, Netflix, etc., for 2-3 hours or more per night. That's 14-21 hours per week! While the downtime is beneficial in moderation, I'd like to explore other possibilities. My new habit is to reduce screen time (no set amount) and instead read a book or find other relaxing activities in the evening.
HABIT 5: Joined a pickleball league.
I signed up for a pickleball league that starts later this month, and I am so excited! It's a community league, so I'm looking forward to meeting new people while doing something active at the same time.
HABIT 6: Eat lunch at the office (or home) instead of take-out.
I usually order take-out for lunch during the week, which creates both a budget and time issue. My office is on Highway 101 in a beach community in San Diego called Encinitas. My home, where I sometimes work, is a few minutes away. The food here is expensive. On average, I spend $20 for lunch. That's $400-$500 per month. Whoa… that's a lot of money! Highway 101 is a busy street with lots of cyclists, tourists, and locals. Although I am close to plenty of restaurants and food options, round trip, it takes me 30-45 minutes to pick up the food and get back to the office or my house.
I'm grateful to have a kitchen in my office, so there's plenty of room to keep all my lunch stuff there as needed. And there's always plenty of food in the fridge when working from home. All I have to do is be intentional about picking up lunch stuff at the grocery.
HABIT 7: Workout more & eat healthier.
For 4-5 years before COVID hit, I worked out 3-4 days weekly. But the gym closures during COVID threw off my routine. Around the same time, we moved to San Diego, and I learned how to surf. For a while, I surfed three days a week. But after about a year, my time in the ocean dwindled to 1-2 days a week: some weeks, no surfing. For the past year or so, my exercise routine hasn't been good at all.
I now have a new workout routine, so far, so good. But it's only been one week. Ha ha! When I plan my workouts for the week, I write this reminder at the top: You'll never feel like working out, and there's always an excuse. JUST DO IT!
Another issue is my eating habits. My weakness is processed sugar and the amount of food I consume (especially after 8pm). Other than that, for the most part, I eat healthy. My goal is to reduce the amount of processed sugar (eat fewer brownies, cookies, etc.) and avoid binge eating at night. I'm only a week into this, but doing pretty good so far.
What about you?
Those are some habits that I'm working on, and I hope they have a ripple effect on my life. That's the idea. And reading the Atomic Habits book helps me stay focused and gives me some tools along the way.
What about you? Are there some new habits you want to start? What are they?
How can those habits have a ripple effect in your life and ministry?
Share your thoughts in the comment section below.
Written by Nick Diliberto, founder of Ministry to Youth.
Looking for youth ministry curriculum? Check out the…
ONE YEAR CURRICULUM – Brand new release! Save 78% on one year of NEW teaching curriculum & Bible studies for youth ministry.