FOR $59 GET $190+ WORTH OF YOUTH MINISTRY RESOURCES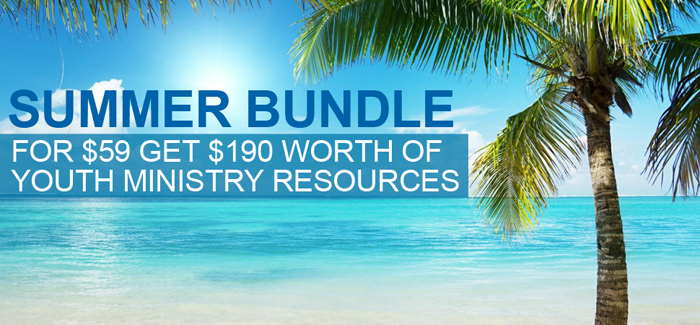 THE SUMMER BUNDLE: SAVE OVER $129
It's summer, so go ahead and host a youth group swim party at your house, grab a bunch of students to slurp up some ice cold snow balls with, treat your volunteers to yummy ice cream, and then be sure to grab this bundle.
We're celebrating summer by putting together an awesome bundle of youth ministry resources. Oh yeah!
Yep, this bundle is sweeter than homemade apple pie topped with vanilla ice cream and chocolate fudge. Mmmmm…that sounds good 🙂
For $59 you get $190+ worth of youth ministry resources! Nice.
Summer Bundle Overview
Summer Days: 8-Week Summer Series ($49 Value)
30 Summer Games for Youth Ministry ($30 Value)
Stress: 4-Week Series ($30 Value)
Prayer: 4-Week Series ($30 Value)
Ephesians: 8-Week Series ($55 Value)
You pay only $59 and save a total of over $129…awesome!