THREE STUDENTS WHO HAVE A DREAM TO MAKE A BIG IMPACT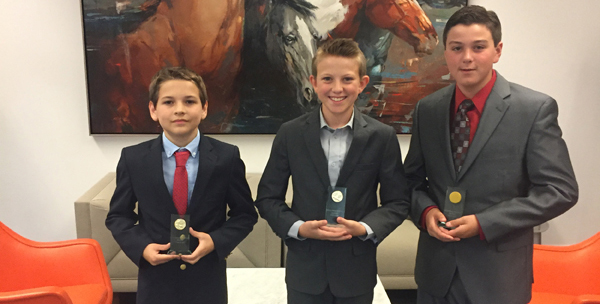 I've been working with 3 junior highers since January to launch their own business, called NexTrax. That's them in the above pic (from left to right: Rhys, Avery & Giovanni).
I have mentored them in the grueling process of launching a real business through the Young Entrepreneurs Academy. I've been amazed at their level of commitment and determination. It's really awesome what young people can do when given the opportunity!
I remember meeting the guys for the first time. When they shared their business idea with me…it was more than just an idea to them. It wasn't just about starting a business and making money.
They were passionate about helping people. They wanted to make a difference in other people's lives. They wanted to prove to themselves and others that they could really run a successful business.
It was as if they were carrying the weight of that on their shoulders, and when I came along they were asking me to help carry some of it with them. They needed some help and guidance, and I was grateful to help.
From that moment on I've volunteered a big chunk of my time each week to help them launch. I've lost a lot of sleep, and at times have neglected my own business and health to help them overcome the many obstacles they've encountered along the way.
They've put in a lot of blood, sweat, and tears to get things done, and have learned a lot about life and business in the process.
They've managed to raise over $4,000 for start-up funding, set up an LLC, ordered & sourced inventory, started the creation of an IOS and Android app, and so much more.
I'm really impressed with these guys on many levels! I know this might sound crazy, but I think they're really unique. It's not everyday that two 12 year olds and a 13 year old possess characteristics, such as: determination, humility, an eagerness to learn, focus, and maturity. I think they're pretty remarkable human beings.
They created a video to share their story with you. The video goes into detail about the many lesson they've learned so far, why they decided to start a business and so much more. Basically, you get to hear their hearts straight from them.
Watch the video & learn more about their business
When you watch the video, you'll also notice they need some more money to finish out the app development. They had to pull the creation of the app from the original developer, and hire a new team to finish it out.
Whether or not you choose to help them out, I hope you're inspired by their story. I hope you are inspired by what young teenagers can do… what they're capable of.
I hope you use that inspiration to continue to empower students in your ministry to do big things. Your arena isn't business, but it is in ministry.
And how often do we underestimate what young people are capable of?
– Nick Diliberto, Ministry to Youth