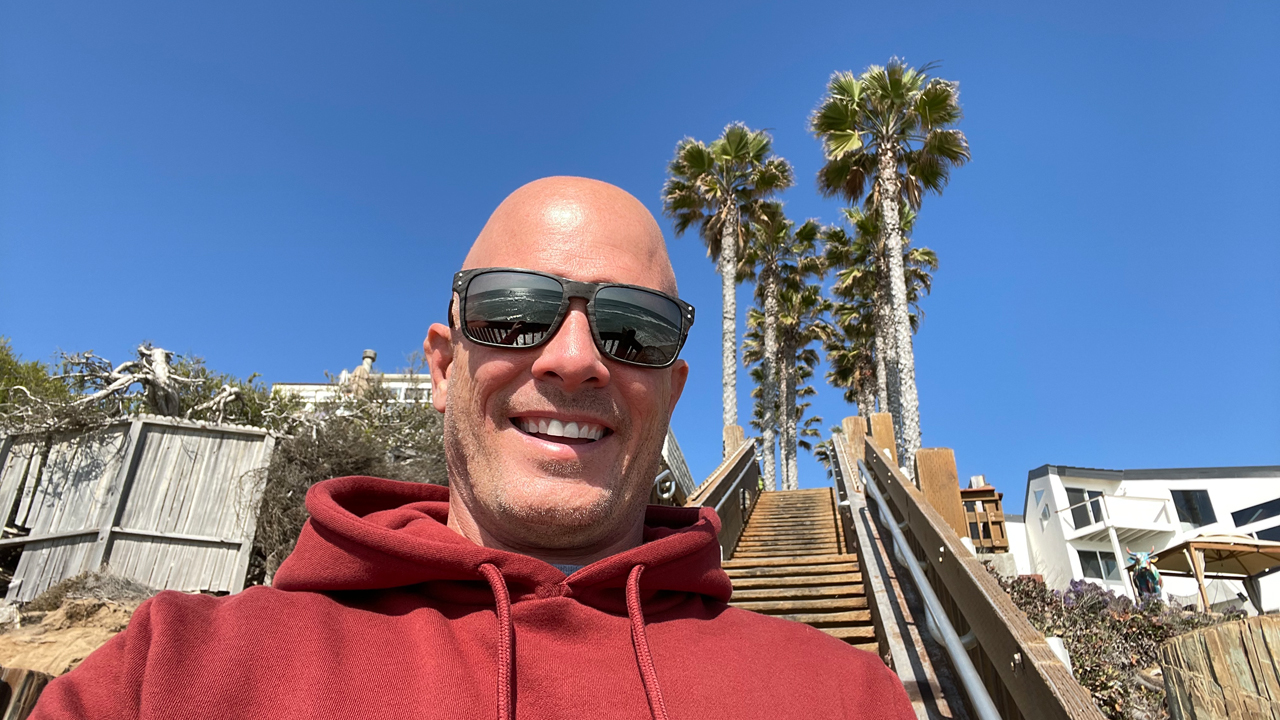 I'm sunburned and exhausted. I am with our youth group for the last night of a youth conference that a church in our area is hosting.
I spent most of the time at the beach with the middle school guys earlier that day. We were swimming in the ocean, throwing the football around, and playing capture the flag. It was a really fun day.
As worship begins, I could feel my body about to break but had high hopes for the evening session.
Little did I know that God would show up in a big way, not only for our students but for me.
After the message, students go to the front, opening themselves up to whatever it is that they need from God at that moment. Just about all our students are upfront—each one experiencing God in a unique way.
A worship song is playing, and I'm immersed in the moment.
I look to my left to see a student hugging a youth leader. She's having a God moment. In many ways, this youth leader has been like a big sister to this student. And I'm reminded that all the female youth leaders have been big sisters to all the girls in our group. That puts a smile on my face.
Seconds later, I felt the strong and distinct presence of God. I heard a gentle yet firm whisper, "Remember me?". My heart melts, and the feeling of God's presence intensifies.
Yes, I do remember… but it's been a really long time. Honestly, it's been years.
My family went through a pretty tough season after my wife was hit by a truck going 50mph while on her bike in September of 2019. Then, because of our move to San Diego last summer and COVID, my wife and kids have been going through a lot. Transitioning to a new city is always difficult, separating from family is hard, and not making new friends due to COVID restrictions has made it tough on them.
Despite all that, God is showing up for me right now.
As I soak in the moment, something shifts deep within my soul. My heart comes alive to God in a new and refreshing way.
Although this only lasts for a few seconds, I sense some kind of shift has taken place.
After the encounter, I have a new openness to God and a renewed sense of purpose and passion for youth ministry.
Something I needed more than I realized.
As I take time to process the weekend, I'm reminded how youth ministry is a flow.
Ministry is a flow (a steady and continuous stream) of God's Word and Spirit through us to the students in our ministry.
It's so important to posture our hearts and minds to receive from God continually.
When HE is the center of our being, then grace, peace, power, goodness, wisdom, and faithfulness flow.
This experience is the climax of something God has been doing in me for quite some time. In many ways, it's a return to the beginning.
I took on a leadership role at my church as a young twenty-something. I had such a strong passion for God and seeing Him move in the lives of young people.
The church was growing, God was transforming people's lives, and I was along for the ride.
I was in awe and wonder at all that I saw God do and was deeply connected to so many wonderful and beautiful people.
We were all doing life together with a sense that God could do anything.
It was my closest experience to the early church in Acts 2.
But somewhere along the way, my passion dwindled. The church underwent a lot of change. Life got in the way.
I went on to serve at other churches throughout the years, but none could compare to those early days.
I eventually transitioned out of full-time ministry and into an earlier version of Ministry to Youth (this website) full-time.
For the next five years, I was the volunteer youth pastor at a small church plant in my community. Then, that season ended, and I took a break from any kind of leadership role at a church for about two years.
I honestly thought I was done with youth ministry. I was very much into resourcing youth ministry leaders, but not so much working directly with young people. I thought my time and come and gone.
But God had other plans. I had this sense that God was stirring something up new within me, but I couldn't quite put my finger on it.
I would even have dreams about being back in youth ministry. Over and over again. But I just couldn't see that being a reality.
For years, I felt like I was deep in the wilderness, looking for the path. I knew I would eventually find it. But in many ways, I felt lost in the wilderness.
When moving to San Diego a year ago, I started going to a new church in my community.
The church is full of life and vibrancy, and I sense that God is doing something special and unique here.
I knew right away this was the place for me.
In many ways, it is similar to my first church. The church is growing, God is moving, and there is a deep sense of community.
I soon volunteer to help with the youth group.
Shortly after, I realize that God has been preparing me for years to be a part of this youth group. To be in community with this incredible group of volunteers and leaders. To be a part of what God is doing in the lives of these students.
I am finally out of the wilderness and have found the path.
I am finally home!
Nope, I am not the point leader. I'm here to support and serve alongside the two of them. And I'm 100% cool with that.
In many ways, this new season of life reminds me of the early days of ministry.
Growth. Life. Vibrancy. Purpose. Spirit. Jesus. Community. Faith. Love.
And then God showed up for me in such a big way this past weekend.
He breathed life into me in such a powerful way. Like only HE can do.
If you've been in youth ministry for a long time, the passion often dwindles. It's easy to get stuck in a rut and just go through the motions. Or you might feel burnt out. You've been going too hard, too fast for too long. You're done. You may even think the best years of ministry are behind you.
But God has your back!
He's not done with you yet.
Your best years are to come!
Don't give up hope.
Continue to pursue God.
God is faithful.
He's continually working out His plan in your life.
You'll go through different seasons.
Some stages of ministry are amazing and life-giving, and some are dark and soul-crushing.
But that's just the way it goes.
Seasons of ministry come and go.
When something dies, something else comes to life.
Thanks so much for taking the time to read this story.
I hope my journey has been a source of inspiration to you in some way.
– Nick Diliberto, Ministry to Youth
Looking for youth ministry curriculum? Then, check out our…
Exclusive Youth Curriculum – One year of strategic youth ministry totally done for you! 52 teaching lessons, 52 small group lessons, 4 youth group events and 6 training sessions.
SHOP ALL our youth ministry bundles, teaching series & game packs.