WHAT TO DO WHEN LIFE GETS MESSY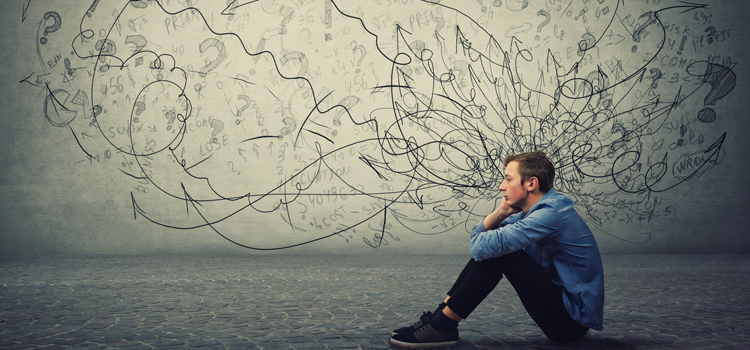 (Nick's Note on 12-29-20: I originally posted this online over a year ago. Little did I know that 2020 was going to be a messy year for all of us. If you're grappling with some problems or want to support others who are struggling, I think you'll find this very helpful.)
A few nights ago, at about 10pm I was doing my nightly routine of cleaning up the kitchen and getting ready for bed. I walked by the laundry room to find a large pile of clean clothes stacked on the folding table and pool table, which serves as an overflow area for our laundry. None of the clothes were folded. They were all clean. If left up to my 3 kids, those clothes would continue to pile up, and they would make even more of a mess grabbing what they needed each morning. The pile of clothes slowly grew over a few days. Anger welled up in me, and I decided to do something about it finally.
As I dumped the clothes in the upstairs hallway, I yelled at the kids to put away their clothes. My wife quickly got wind of what was happening and tried to talk some sense to me. I barked back at her, which soon snowballed into the two of us fighting. I was rude. She didn't deserve how I treated her. I wasn't mad at her. She eventually told me to talk to the kids about the situation. Because I was angry at them, not her.
So, I had a pow-pow with the kids. Eventually, my anger subsided. They put away their clothes, and we went to sleep.
The issue wasn't an isolated incident, but part of an overall problem. The kids don't pick up after themselves, leave messes around the house, and don't keep the house in order.
When it comes to parenting, as in life, there's always one or multiple problems to address. At any given moment, there could be a problem with school, friends, peer pressure, making wise decisions, etc. I believe part of parenthood is accepting that problems will always exist, and learning to find joy and peace in all the chaos.
The same is true in life. Life is messy. Much of the time, problems of some kind exist. When one goes away, another one eventually pops up. Furthermore, we often have seasons of life that are marked by dark times. When a particular situation clouds every facet of life.
I believe the key is to find a healthy approach to dealing with life when things don't go our way.
Here are some things I've discovered that are helpful:
1/ Accept the fact that life will often not go as planned.
You can't control the people and events around you. As mentioned earlier, problems of some kind will always exist. Obstacles pop their ugly heads. Loved ones die. Tragedy visits us all at some point. Life is often chaotic and messy.
Much of the time, our inability to accept that life is difficult creates even more problems.
Something terrible happens, we hyper-focus on it, and then stress/anxiety take over. We might lose sleep over it, or it eats away at us on the inside. We need the problem to be resolved to inwardly experience peace and happiness.
The goal isn't to have a life absent of conflict or difficulty. That's not reality. Instead, learn to be at peace with the tension that comes with adversity. The tension will always exist, just accept it as a mostly constant reality in some form or another.
Sure. Be angry, upset, hurt, sad, etc. Unpleasant situations will affect how we feel. That's a part of being human.
There is a lot of freedom in accepting that life is often messy. We're able to address each situation with clarity, peace, and focus because we know this is just how it goes. Life is difficult. We know that at any given time, we'll be facing some type of trial or adversity.
Once you accept this reality, then here's the next step.
2/ Avoid getting sucked into the energy of a problem. Stay grounded.
There are a couple of components to this statement. Let's break it down.
Avoid getting sucked into the energy of a problem.
Has some version of this happened to you?
There's a conflict between you and your senior pastor. He doesn't approve of something that you're doing in your ministry but doesn't communicate it directly to you. But you feel that something is off. Then, something triggers him to talk about the problem with you finally. You disagree with his point of view. Now, things are weird between the two of you. You're not quite sure what to do about it.
You have a family to support and fear getting let go. You unconsciously turn to food for comfort, which isn't good because you're already self-conscious of your weight. You're not getting enough sleep. The situation is beginning to affect your relationship with your spouse and kids. You're generally moody and on edge.
What's happening here is that you're confronted with adversity. A big one too because something you care about deeply, ministry to youth, is being threatened.
However, you have a choice to allow yourself to get sucked into the problem or keep an emotionally healthy distance from it.
You know you're getting sucked into a problem when the situation consumes you. It dominates your thoughts and emotions. You start having conversations in your head with the person you're in conflict with. The problem eats away at you on the inside and affects those closest to you. It sucks the life out of you.
The bigger the problem, the more potential there is to get sucked in.
The alternative is to keep a healthy emotional distance from the situation. How? Stay ground.
Staying grounded means there is an awareness that "you" and "the problem" are separate. The two are not one. You are independent of the situation. The real you, your spirit, does not have to be shaken by the circumstance. Because your soul is eternal. Your heart does not need to be broken or crushed. Because you and the problem are not one. You will endure.
Being aware of this separation enables you to have a healthy perspective. It allows you to take a step back and see the situation with clarity.
Let's take that idea one step further and talk about being ground (or rooted) in Christ, which is not a foreign concept. You get the idea. You probably have taught it in one form or another. But you might forget it's power when facing pain or adversity.
It looks different for everyone, and every situation requires a different approach.
For me, it often means surrendering and letting go. I want to control the situation. Fix the problem. Change the person. But what I really need to do is surrender it to God, giving up the need to resolve the situation.
Sometimes it means that I need to do something. So, instead of brainstorming solutions on my own or taking immediate action, I need to first go to God for wisdom and direction. This requires me to sit, wait, and listen for God's guidance.
Other times it means I go to God for refuge and peace, asking him to give me the strength to endure the hardship.
Being grounded is what's needed to avoid getting sucked into the problem. Yes, you will experience heartbreak, sadness, anger, etc. But you won't allow it to shake you to the core. You can maintain a healthy distance from all the drama. You can rely on God, who is all-powerful.
You'll see the blue sky.
The Blue Sky
Have you ever been on a plane when it was rainy and stormy outside? The clouds are dark. The rain is coming down. It's a mess. There's turbulence when going through the clouds. Then you make it through, soaring high above the clouds, only to discover the sun shining brightly and a clear blue sky.
The blue sky was always there. Above the storm and the chaos.
And so it is true in life. Peace, happiness, clarity, joy, and calm are always available to us. We just need to accept that storms will come our way, and when they do to find the blue sky above them.
Now, Is this a complete list of ways to deal with adversity? Of course not.
Does God bring light in a dark situation? Yes.
Does he comfort those who are hurting? Yes.
Does God work something good out of a bad situation? Yes.
Are problems an opportunity for personal and spiritual growth? Yes.
There are many truths about dealing with the messy-ness of life that I haven't covered.
I have a limited amount of space to write about only a few things that have been helpful for me.
And I hope they have been helpful to you.
I'll leave you with this quote:
"It's not about avoiding the storm, but learning to dance in the rain." – Author Unknown
– Nick Diliberto, Ministry to Youth
Looking for youth ministry curriculum? Check out our…
One year of strategic youth ministry totally done for you! 52 teaching lessons, 52 small group lessons, 4 youth group events and 6 training sessions.