Youth Group Game & Lesson About Blessings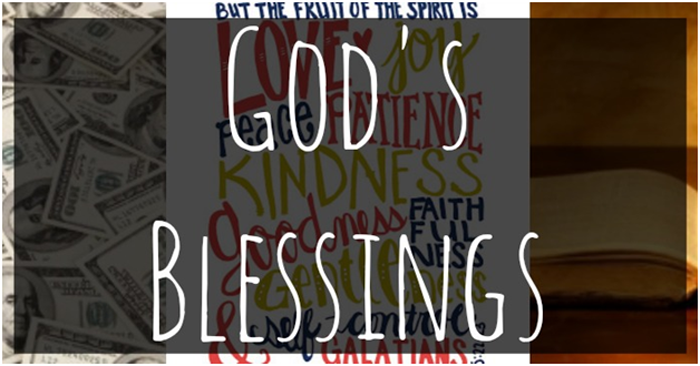 Here is a free lesson and game about blessings, based on Psalms 1:1-3
Enjoy!
-Nick Diliberto, Ministry to Youth
Looking for youth ministry curriculum? Check out the…
ONE YEAR CURRICULUM, VOL 3 – Save 82% on one year of Bible studies and teaching curriculum for youth ministry.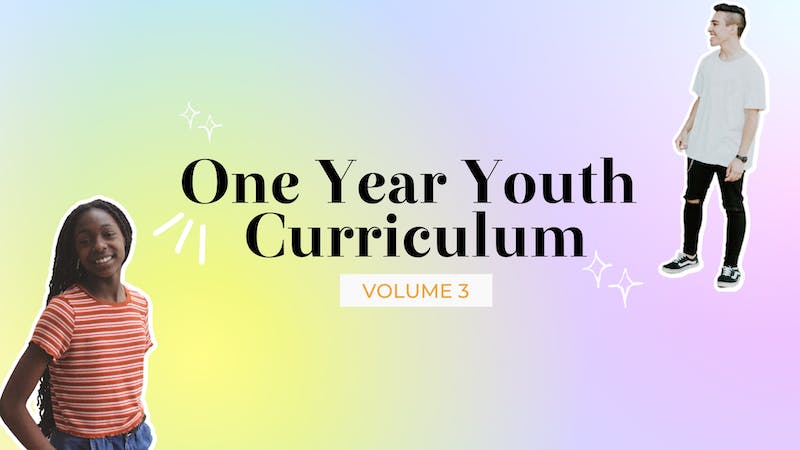 Youth Group Game & Lesson: God's Blessing
DOWNLOAD THE PDF OF THIS LESSON
Bible: Psalms 1:1-3
Opening Game: Unwrap it!
Supplies:
Baking soda (for invisible ink)
Water
Paintbrush
Bowl
Paper
A lamp or accessible light bulb
20 (or more, based on the size of your group) varying sized gift packages wrapped up (there doesn't need to be anything inside of them).
Make the invisible ink before the service by mixing equal parts baking soda and water. You may want to practice this once without an audience just to make sure you used enough baking soda for the ink to show up when the paper is warmed.
Split the group into two teams. On one side of the room, put the pile of presents. Have the teams line up on the other side of the room.
When you say, "Go", the first person from each team must run over and select a gift from the pile. They have to completely unwrap the gift without using their hands.
Once they've freed the package, they then have to get it back to their team—once again, without using their hands. Once they get the package back, they can tag the next person.
If they drop the package at any point on the way back, the next person in line has to pick up where they left off.
The first team to successfully unwrap and retrieve ten packages wins.
Teach – God's Blessings
You guys are pretty good at opening gifts without your hands! Who knows when you'll need that skill in life, but hey, it's good to know!
Tonight we're going to be talking about gifts. More specifically, we're going to be talking about blessings.
It's a pretty common prayer to ask for God's blessing on something. We bless our food, pray that God will bless our friends, and sometimes we even ask Him to bless us. And we should! He is a wonderful God who wants to bless His children—that's us!
You do not have to earn God's blessing. What I mean by that is that there's not some cosmic scoreboard in heaven keeping track of all your rights and wrongs, waiting for the good to outweigh the bad before God blesses you.
There are, however, some verses in the Bible that talk about God's blessing and what type of people He blesses. Those are the type of people we should strive to be.
Read Psalm 1:1-3:
"Blessed is the one who does not walk in step with the wicked or stand in the way that sinners take or sit in the company of mockers,but whose delight is in the law of the Lord, and who meditates on his law day and night.That person is like a tree planted by streams of water, which yields its fruit in season and whose leaf does not wither—
whatever they do prospers."
Here we see that the type of person that is blessed. This type of person doesn't hang out with those who live in sin, act in wickedness, or mock God or others. Instead, they find joy in God's word, which they study. And what do these things get this person?
Blessed. They are prosperous and fruitful, no matter what the circumstances around them are.
That's an example of how, though we don't have to earn God's blessing, certain types of lifestyles result in being blessed.
Now, it's important that we get something straight right away. Sometimes, when we talk about God blessing us, people only think of blessings in terms of things like money, houses, cars, and clothes. Let me be clear: God's blessings do not equal material things.
Yes, of course God can bless us financially and provide things like clothes and food for us. And he does that often. If you have a house to live in, you should be thankful for that blessing!But God does not only bless us with material things. He blesses us with things that are worth far more than that. Let's take a look.
Read Psalm 5:12:
"Surely, Lord, you bless the righteous; you surround them with your favor as with a shield."
This verse doesn't say, "Surely, Lord, you bless the righteous; you give them lots of money for fun things." Or, "Surely, Lord, you bless the righteous; you make sure they get good grades in all their classes."
No, the blessing here is God's favor—something far greater than money or popularity or good grades.
Read Psalm 29:11:
"The Lord gives strength to his people; the Lord blesses his people with peace."
Once again, we have a verse about God blessing His people with things that have nothing to do with material things, but instead, strength and peace.
I'm going to tell you something that may seem difficult to understand, but it's the truth.
You would be far better off living on the streets, poor and alone, and being blessed with God's strength, favor, and peace than you would be to be living the most extravagant, rich lifestyle you can imagine and be living without those things.
Read Matthew 7:9-11:
"Which of you, if your son asks for bread, will give him a stone? Or if he asks for a fish, will give him a snake? If you, then, though you are evil, know how to give good gifts to your children, how much more will your Father in heaven give good gifts to those who ask him!"
God's blessings go far beyond money, and they usually go far beyond the things that we want or think we need. The amazing thing, though, is that we can be confident that God knows exactly what is best for us and exactly what we need.
If it were money, that's what He'd give us. But more often, it's something like peace, favor, or strength. And those are incredible gifts.
We can rest assured that God loves us way more than any earthly father could ever love his children. That means He delights in blessing us with gifts! He knows the plan He has for us, so He knows what we need to make that possible. He truly wants the best for us.
I think that we would all agree that we are extremely blessed. We all have places to live, we're educated, and we have an awesome group of people to come learn about Jesus with every week. Chances are, you haven't had to go days without eating this week. You're all wearing clothes, and you all look nice. We're obviously very, very blessed.
But sometimes, life can get a little bit hard. When that happens, it's easy to forget about all those amazing blessings in our lives. We can start to feel sad, lonely, and beat down. When things get tough, it's easy to feel like we aren't blessed at all.
Get out the invisible ink and paper.
Now, I'm just going to paint something here for you guys. Paint with the invisible ink for a few seconds. Well, it looks like there isn't anything there. That's weird. Oh well, I'll keep painting anyway.
Wave the picture in the air to dry while you read this next verse.
Read Matthew 5:3-11:
"Blessed are the poor in spirit, for theirs is the kingdom of heaven.Blessed are those who mourn, for they will be comforted.Blessed are the meek, for they will inherit the earth.Blessed are those who hunger and thirst for righteousness, for they will be filled.Blessed are the merciful,for they will be shown mercy. Blessed are the pure in heart,for they will see God.Blessed are the peacemakers,for they will be called children of God.Blessed are those who are persecuted because of righteousness,
 for theirs is the kingdom of heaven. "Blessed are you when people insult you, persecute you and falsely say all kinds of evil against you because of me. Rejoice and be glad, because great is your reward in heaven, for in the same way they persecuted the prophets who were before you."
So let's get this straight: poor, sad, meek, hungry, insulted, persecuted people are referred to here as blessed?
Yes, they absolutely are. And look at those blessings: The kingdom of heaven is theirs! How amazing is that?
Next time you feel like things aren't going so great, and you don't feel God's blessings in your life; remember this verse. Because the people referenced in this verse aren't having that great of a time either. But their unseen blessings are worth far more than you could ever imagine.
Hold your painting up over a lamp. It will take a few seconds to warm up, but soon the paper will heat up and your picture will begin to show up.
Isn't that cool? That's just how the blessings in our life are sometimes. Even when we don't think we see them, we know they are there, because we know God loves us. He knows exactly what we need, and He knows exactly when we need to see it.
We just have to trust that God knows what's best for us, and that if we live a life that's pleasing to Him, He is going to make sure we get what we need, when we need it.
Small Group Discussion Questions:
1. Do you consider yourself to have a life that's full of God's blessings?
2. What are some ways God has blessed you?
3. Do you ever feel like you have to earn God's blessings?
4. Do you think that your life reflects the type of life talked about in Psalm 1?
5. Do you think that God's blessings like peace and strength are more important than the material things that we think we need?
6. When you go through hard times, do you sometimes forget how blessed you are?
7. How does it make you feel to know that God loves you like a father and wants to give you good gifts?
8. Do you think that God's plan is better than our plan? That His blessings are better than any we could imagine for ourselves?
9. If there were one blessing you could ask God for, what would it be?
10. Have there been times before in your life where God really blessed you, but you couldn't see that until later?
Teach – Wrap Up
Sometimes it's easy to forget how truly blessed we are. We can get caught up in the mundane, everyday things we have to do, and we can take God's blessings for granted. So really quick, before we end, we're going to go down the line and just shout out one thing God has blessed us with.
Start at one end of the front row and work your way back. If you have a bigger group, you may just ask for a few volunteers. If you have a small group, you can ask them to say more than one thing.
Those are a lot of blessings! Wow, we have a great God! I would encourage you to do that every now and then on your own. Just take a few minutes and list out all the amazing blessings God has given to you. It can be so encouraging!
It's important to remember a few key things about God's blessings. First, we need to remember that they come along with certain lifestyles, like those that follow the Bible. Second, it's important to remember that His blessings may not be things that we think we want, like money or material things, but they will always be better. Lastly, it's important to remember that even though sometimes we can't always see God's blessings right away, they are there, and my just come into sight later.
DOWNLOAD THE PDF OF THIS LESSON
End lesson.
Looking for youth ministry curriculum? Check out the…
ONE YEAR CURRICULUM, VOL 3 – Save 82% on one year of Bible studies and teaching curriculum for youth ministry.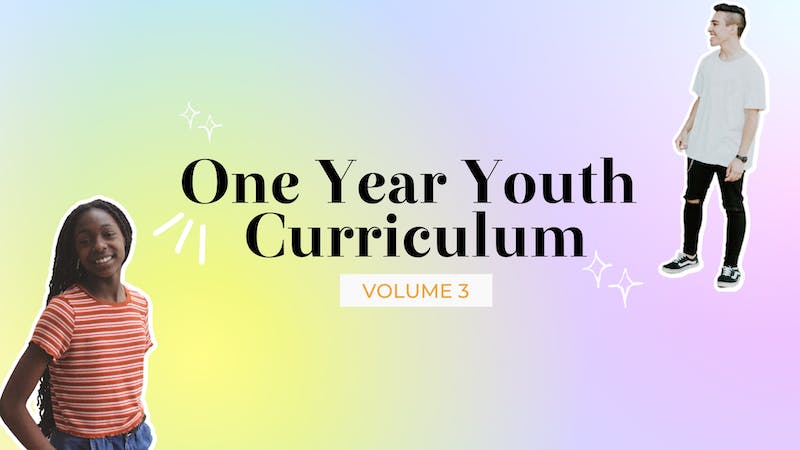 Want another free lesson? Check out this…