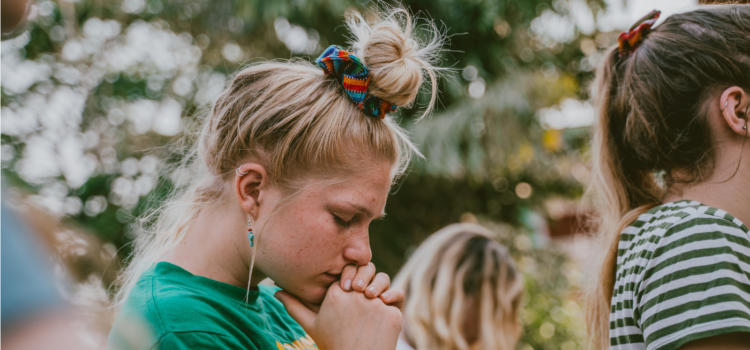 While we live on this earth, we will never be perfect.
Our attempt at holy living will not save us, but rather is a result of being saved.
It's not uncommon for students to feel discouraged or even consider giving up when they struggle to live a holy life, but God can give them the strength to keep pursuing godly living.
Use this youth group lesson, based on 1 Peter 1:14-16, to encourage students that they can live a holy life with the help of the Holy Spirit.
– Nick Diliberto, Ministry to Youth
YOUTH GROUP LESSON ON HOLINESS
DOWNLOAD THE PDF OF THIS LESSON
Written by Carrie Busch
Bible: 1 Peter 1:14-16; Colossians 3:12-17
Bottom Line: We can live a holy life with the help of the Holy Spirit.
SUPPLIES
Slips of paper and pen
Bucket
List of Charades Words
A variety of props in a black garbage bag (at least one item per student)
OPENING GAME: IMITATION IS THE HIGHEST FORM OF FLATTERY
GAME PREP
Before your youth service, gather a variety of items from around your church building or bring them from your home.
Items can literally be anything you can think of – clothing, food, random objects, etc.
Take all of the items and place them in a black garbage bag that you will have on hand throughout the game.
Divide students into two teams of equal size and have each team huddle together.
Have someone keep score for the teams throughout the game.
Take the "List of Charades Words" and write each individual word/phrase on a slip of paper.
Fold the slips of paper in half and place them in a bucket.
LIST OF CHARADES WORDS
Dancing a ballet
Washing an elephant
Rock climbing
Playing soccer
Flying a kite
Going bowling
Building a campfire
Sewing on a button
Ironing a shirt
Making a pizza
Having a food fight
Paddling in a canoe
Riding a motorcycle
Flipping pancakes
Hailing a taxi
Mowing a lawn
Raking leaves
Building a sandcastle
Playing baseball
Setting up a tent
HOW TO PLAY THE GAME
Say: Today, we'll be playing charades based on the idea that imitation is essential in our walk with Christ.
Each person will get one turn (so that the game does not take too much time).
Give each person a Charades word/phrase to imitate for the group.
Teams will alternate having a person stand in front of the group to act out the word/phrase for their team.
Not only will you have to act out the Charades word/phrase, but when it's your turn you will choose a prop from the garbage bag.
You will have to include the prop in how you act out your Charades word/phrase.
Each turn will only last one minute.
If your team gets the answer within one minute, you will get a point.
If your team can't figure it out, there is no opportunity for the other team to guess – either your team answers correctly, or no point is awarded for that round.
Whichever team has the most points once everyone has had a turn – wins the game!
TEACH
Say: Charades is a fun game because it allows us to imitate others.
Plus, it's loud and crazy and competitive.
Well, the game of Charades reminds us of how important imitation can be, especially if we're imitating Christ.
Unfortunately, sometimes it's easier to imitate the world than to pursue a life of holiness by imitating Christ.
As you may have guessed, "holiness" is the topic of today's lesson.
Ask: What do you think of when you hear the word "holiness"?
Try to define "holiness" in your own words.
Allow a few responses from students.
It's impossible to separate the word "holiness" from its context in scripture, meaning that we can't just use Webster's Dictionary to define it, but rather God's Word.
In the Old Testament, holiness refers to God's separation of sin and evil from the sinfulness of man.
God is a holy being completely different from anything or anyone else.
God is altogether different from man: perfect, awesome, majestic, and supreme.
So, if in this context holiness means "divine," does that mean that we should pursue holiness by acting as God of our own lives?
Does it mean that we can be perfect?
That we can be supreme over everything?
Obviously, we can't.
We will always be men (and women), and God will always be God, meaning that we can never compare to his perfect "set apart-ness."
But then how can God ask us to be holy just like He is?
Read 1 Peter 1:14-16.
As obedient children, do not be conformed to the passions of your former ignorance, but as he who called you is holy, you also be holy in all your conduct, since it is written, "You shall be holy, for I am holy."
Here, scripture seems to define holiness when referring to ethical behavior.
Holy character.
This means that when God asks us to be holy as he is holy, He says that we should demonstrate conduct that would remind the world of Him.
So, put simply, being holy does not mean BEINGGod, but being LIKEGod in our ethical conduct.
It might seem impossible, and we certainly can't even be perfect, but God wants us to conduct ourselves in a manner that would be described as "holy," or set apart from the world.
So, how do we do this?
These are important questions that we must wrestle with today.
If God has commanded that we be holy, we must make sure we know what He means so that we can obey.
So, let's start with the HOW of holiness:
We cannot – I repeat, CAN NOT – live holy lives without the indwelling of the Holy Spirit.
So, before we discuss holy living, or being set apart for God's purpose, we must understand that we can do nothing of worth on our own.
Our attempt at holy living will not save us, but rather is a RESULT of being saved.
In fact, the Holy Spirit is the One who convicts us of sin and transforms us (sometimes slowly and painstakingly) into the likeness of Christ.
This means if we have not given our lives to Christ and received salvation, then any attempt at holy living would be an exhausting lie.
For those who have been saved, the pursuit of holiness becomes a mission or goal that can always be improved upon.
Like I said earlier, the Holy Spirit, over time, convicts us of our sins and transforms us more and more into the likeness of Christ.
It's important to note that while we live on this earth, we will never be perfect.
However, the true Christian will desire to be holy, simply because God has transformed his or her desires.
Read Colossians 3:12-17.
Put on then, as God's chosen ones, holy and beloved, compassionate hearts, kindness, humility, meekness, and patience, bearing with one another and, if one has a complaint against another, forgiving each other; as the Lord has forgiven you, so you also must forgive.
And above all these put on love, which binds everything together in perfect harmony.
And let the peace of Christ rule in your hearts, to which indeed you were called in one body.
And be thankful.
Let the word of Christ dwell in you richly, teaching and admonishing one another in all wisdom, singing psalms and hymns and spiritual songs, with thankfulness in your hearts to God.
And whatever you do, in word or deed, do everything in the name of the Lord Jesus, giving thanks to God the Father through him.
We all wish to have these qualities, right?
Compassionate hearts, kindness, humility, meekness, and patience…
So, what if you struggle with a few of those?
What if you have trouble forgiving? Or being patient?
If you can relate, you are normal!
All Christians make mistakes.
We may have conflicts with family or friends.
We may grow impatient and may yell, kick, or scream.
We may struggle with bossiness or anger.
However, we can't leave it there.
If we have the indwelling of the Holy Spirit, we should desire to "put off" these aspects of our character or behavior.
One way to do so is to spend time in God's Word.
When we hide God's Word in our hearts, not just skimming it on Sunday during a church sermon, we begin to recognize our sin and allow God to prune us.
Remember: You became a new creation when you surrendered your life to Christ.
Remind yourself of that when you face a temptation to go back to your old ways.
Remind yourself of the scripture that you've hidden in your heart.
Remind yourself that you are dead to sin and alive in Christ!
And don't use the excuse that it's just natural to sin, or that everyone else is doing it, so why not you.
Remind yourself that Jesus has given you new life and you get to be declared "not guilty" by the Judge of all time.
This should motivate you to allow the Holy Spirit to mold you into the person that God knows you can be – for His glory!
Close in prayer.
SMALL GROUP DISCUSSION QUESTIONS
1. Why do you think God wants Christians to be holy, or set apart?
2. If perfection is impossible in this life, why try?
3. Which of the characteristics of holy character (discussed in Colossians 3:12-17) do you struggle most with?
Discuss why this is particularly tough for you.
4. Why is it pointless to attempt holy living apart from God?
5. What does our culture tell us about holiness?
Are these characteristics valuable to our culture?
6. How does our culture view sexual purity (one aspect of holy living)?
What does God say?
7. Why do you think that the Holy Spirit transforms us slowly over time rather than changing us all at once?
What do you think this process shows the world about Christians?
8. Can a person still be saved and struggle with sin?
Find scripture to prove your answer.
9. Think of an aspect of your character that God has been working on and discuss it with the group.
10. What steps can you take today to pursue holiness intentionally?
DOWNLOAD THE PDF OF THIS LESSON
Liked this lesson? Then you'll like this…