YOUTH GROUP LESSON ON MATERIALISM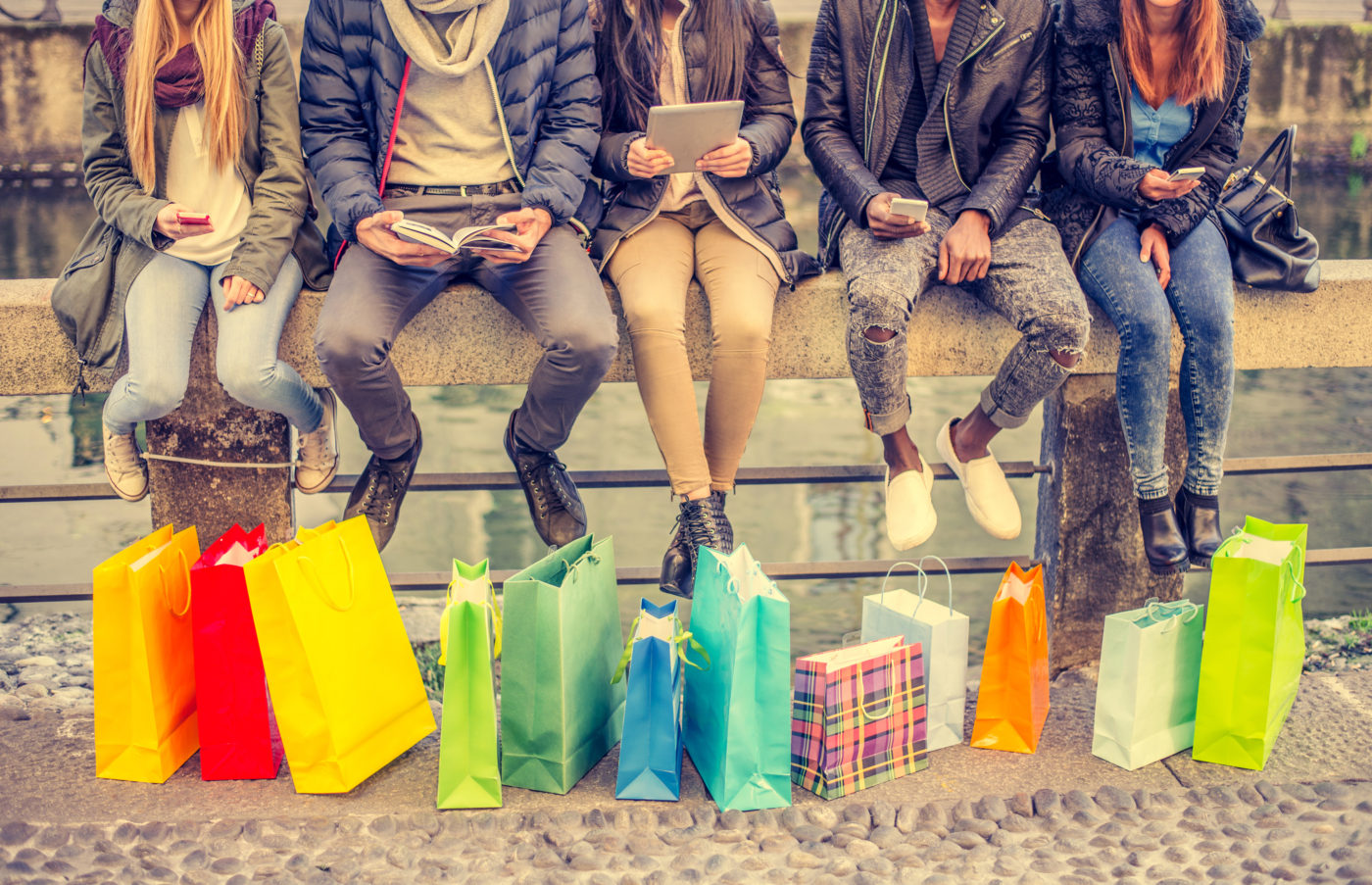 Let's face it, we live "in a material world", as Madonna would say. I know… I'm showing my age… ha! But, it is true.
We live in a society where material things are so readily available to us.
We can simply order whatever we need, whenever we need it, and have it delivered to our homes. 2 day free shipping. One-click purchases. Oh my… you can tell I order stuff from Amazon…A LOT!
It is effortless to accumulate these days. As a result, we accumulate tons of stuff. My wife recently went through all our kids rooms boxing up stuff they no longer need or want. I did the same with my clothes and stuff. We also went through the garage and put aside everything that needed to go. I loaded up my SUV with 2 huge loads of stuff. One load went the dumpster, and the other went to Goodwill. Geez. It's so easy to accumulate stuff!
Many are yearning for simple lives. There's a reason that tiny homes and "simplicity" are buzz words – we are stuffed with stuff.
Many of the students in your ministry might be struggling with materialism. The cycle goes like this. They want something and eventually get it. Then they want something else and get it. They constantly want more and are never satisfied with what they have. It's a vicious cycle.
The struggle is real and is one that we face as a society.
Use this lesson to ask your students: Does your stuff own you or do you own your stuff? Because in the end – God wants to be your treasure.
Enjoy!
– Nick Diliberto, Ministry to Youth
Looking for youth ministry curriculum? Check out the…
ONE YEAR YOUTH CURRICULUM, VOLUME 2 – Save 78% on one year of teaching curriculum and Bible studies for youth ministry.
YOUTH GROUP LESSON ON MATERIALISM
Written by Tiffany Hollums
DOWNLOAD THE PDF OF THIS LESSON
Bible: Matthew 6:19-34
Bottom Line: Does your stuff own you or do you own your stuff? God wants to be your treasure.
SUPPLIES
5-7 thrift store "treasures" (stranger the better) wrapped in gift boxes
Note: Make a video of you shopping for the items at a thrift store, also showing the sheer volume of items that are available for purchase.
OPENING GAME: TREASURE HUNT
Hide "treasures" in your youth group space – wrapped boxes of very quirky and 'untreasure-like' treasures.
Examples would be weird things that you find at a thrift store or even in the church basement!
Tell the youth how many treasures are hidden and instruct them not to open the treasure when they find it, but bring it with them once the hunt is over.
On GO, give them 10 minutes to hunt for treasure.
Have a 'treasure opening' time in which the youth open the treasures and then following up by showing the thrift store video (if you have one to show).
TEACH
Imagine that next week, we are going to have a challenge in which each of you will be dropped off, from a fancy helicopter of course, onto a deserted island and you can only take one thing with you: What would that item be?
Give the youth a chance to answer.
How many of you wanted to answer "my cell phone", but then you thought about needing to take the charger… and then wondered if you would get cell signal on this deserted island?
Let's hear how you would answer would answer these questions:
How many pairs of shoes do you own? Yes, even the ones that you don't think fit or are cool. How many pairs do you OWN?
How many shirts do you own?
What about how many possessions do you own? The GRAND TOTAL of things that belong to you.
More and more the 'cool' thing is to get a tiny home.
Why? Because more and more of us are sick of all of our stuff.
The TV show 'Hoarders' has caused many of us to have nightmares—have you seen the show?
There are people, on this TV reality show, who are literally buried under their stuff, and there is a reason that so many people are writing about simplicity or simple living.
They are realizing what Jesus already knew: Stuff won't fill us.
Jesus shared some pretty amazing thoughts on stuff and as we read his words, really listen.
Read Matthew 6:19-34: Have different people read each verse to help break up the long scripture, but the scripture in entirety is powerful.
What phrases really jump out at you?
What stuck out to you in these amazing words from Jesus?
Let's look at just a few of these words.
"Where your treasure is, there your heart will be."
We all have things that we truly love and treasure.
Let's be honest, for a lot of you, it is probably your phone.
But what other things do you really treasure?
Or put this way: What are the possessions that you have that you wouldn't want to live without?
What things do you spend time thinking about and trying to figure out how to buy?
And only you and God can truly know whether this thing is simply a 'thing' to you or a 'treasure'.
But ask yourself this: If I were to lose this thing… what amount of my time would be spent either being so mad I lost it, thinking of how to get another one, or wishing I had it?
Listen to this phrase from Jesus: "And why worry about your clothing? Look at the lilies of the field and how they grow. They don't work or make their clothing, yet Solomon in all his glory was not dressed as beautifully as they are. And if God cares so wonderfully for wildflowers that are here today and thrown into the fire tomorrow, he will certainly care for you. Why do you have so little faith?" (NLT translation)
How much do you worry about what you wear? What others are wearing?
And Jesus points to beautiful flowers to remind us that there are so many things that we worry about: what to eat, what to wear, what to do to earn more money to buy the things we want to eat and wear, when God loves us and will always care for us.
Does this mean that God is going to go and buy us a brand new wardrobe from our favorite store or give us what we NEED?
See, many of us have to honestly look at what are our WANTS and desires and what are our NEEDS.
Jesus is saying that the difference is a heart issue.
It is a matter of what we treasure, value, or crave.
See, what we think will make us happy (the newest phone, car or just insert whatever that thing is for you) – will it truly make you happy? Will it satisfy you FOR LIFE??
Because think about when you were a little kid: What was something that you wanted so bad from Santa Claus for Christmas that it just about drove you crazy waiting for Christmas morning to come?
Share a personal story about your Christmas gift obsession (if you have one) or give examples.
Give the youth a chance to share their stories.
Now, let me ask you: where is that item now?
See, I bet that item is maybe, best-case scenario, up on a shelf, but honestly, it probably stopped working or is at a thrift shop somewhere.
Because we had a WANT not a need.
We could easily talk about all of the people all over the world who live without things or who are starving.
They have no food or shelter.
And that conversation needs to happen, but, sometimes 'that country' is so far away that we forget to realize that we need to be really honest about what we have going on right in our own little world.
Let's stop looking at other people and look at ourselves and ask Jesus honestly: Do I have a problem with materialism?
Do I own my things or do they own me?
Or ask yourself this – on a scale of 1 to 10 how messy is your room?
Do you have stuff just laying everywhere?
Because if you do, like most of us do, what does that say about your relationship with stuff.
And maybe it is a good time to take a look at those piles and ask yourself: "Do I really need all of this?"
Why do we have the things that we have?
And where is my heart?
What do I treasure?
Here is a question I want us to really chew on: How could our stuff be used to bless others?
Let's think together in our small groups about ways that we could actually bless others with our stuff.
Because the last words from Jesus in this scripture are the real treasure: Seek God first and He will give you all that you need.
God wants to bless us and take care of us.
We honestly don't need to worry about most of what we spend our time worrying about because 'God has us'.
Imagine how your life could be if you let God truly take care of you?
If you looked for him, like you looked for that treasure today, and found him??
Seek God.
He wants to be found.
Close in prayer.
SMALL GROUP DISCUSSION QUESTIONS
On a scale of 1 to 10 how much do you think you struggle with materialism?
What are your favorite possessions and why?
Which things that you own would be the hardest for you to just give away and why?
What are ideas of how we could use our stuff to bless others in our community? Share these ideas with others and even dream together as a youth group on how to bring these dreams to reality.
DOWNLOAD THE PDF OF THIS LESSON
End lesson.
Looking for youth ministry curriculum? Check out the…
ONE YEAR YOUTH CURRICULUM, VOLUME 2 – Save 78% on one year of teaching curriculum and Bible studies for youth ministry.
Liked this lesson? Check out this…
Youth Group Lesson on Obedience