We put together a list of the best youth group games you can do on Zoom (or whatever platform you use).
So, here goes:
1. 15 ZOOM GAMES BY CIY
Go here to download the 15 free games published by Christy in Youth CIY.
And if you've never heard of CIY, lean more about them here.
I've been a big fan of them years 🙂
2. HOME SCAVENGER HUNT
As you probably already know, Home Scavenger Hunts are really popular right now.
There are many variations of how to do it. Here are two:
Option #1
Give students a list of items around the house to get, and assign each item a certain number points.
Students have 15 minutes to grab those items.
Whoever has the most points wins.
You can come up with your own list of items, or use this one below: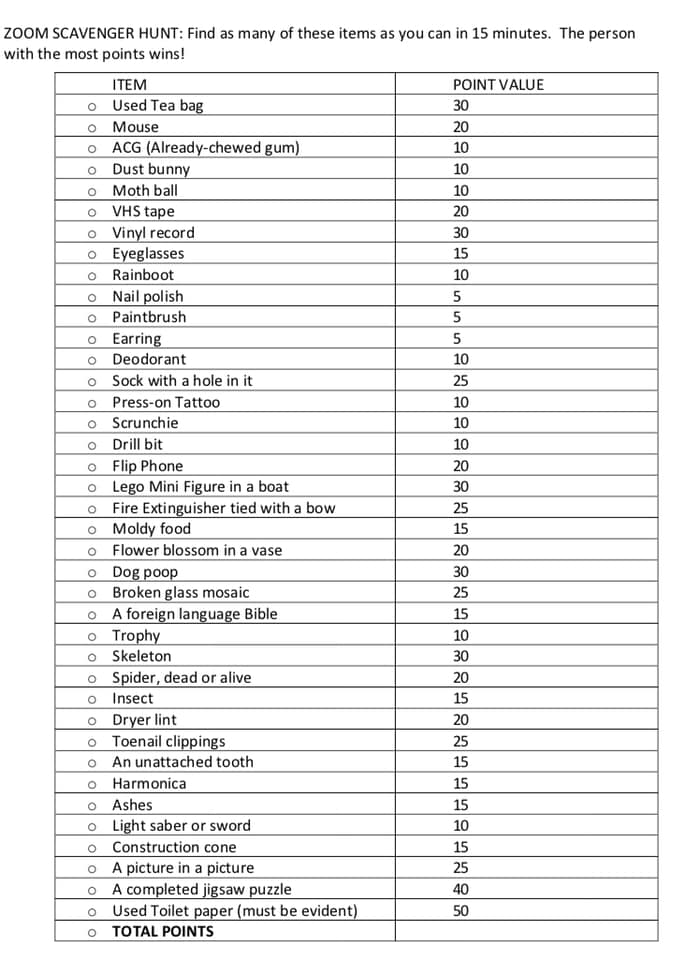 A big shout out to Megan Johnson, who shared that list with our Facebook group community!
Option #2
Same basic idea as option #1, with a slight difference.
You name one item at a time, allow students 1 minute (or whatever time you want) to find that item in their house, and return to their computer with it.
First player to do so, gets a point.
Student with the most points at the end wins.
3. PHOTO SCAVENGER HUNT
Combine as many items as possible into 1 picture and text it to the leader.
First to respond with the most points wins!
Feel free to modify the items on the list: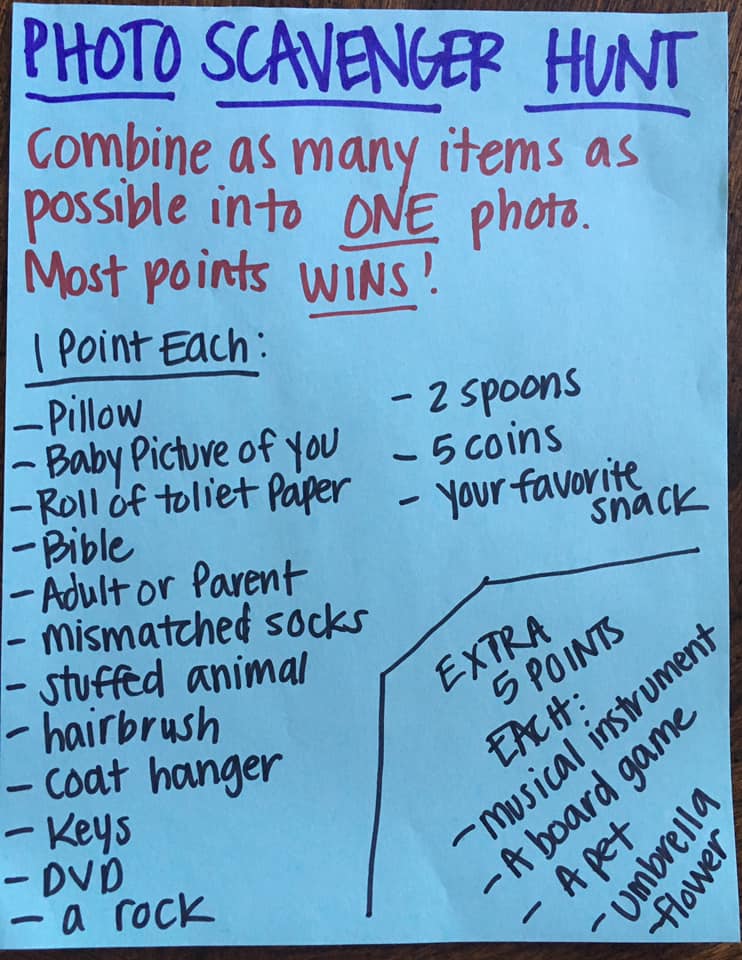 4. KAHOOT
Go here to learn more about Kahoot.
You basically use it to create a trivia game with students. You come up with the questions.
Here's the basic idea:
Come up with a list of trivia questions. You can even use questions (or complete Kahoot's) submitted by other users on their website (or app).
Host a live game with questions you post on Zoom or share a game with remote players.
Game on! Everyone joins the Kahoot with a PIN provided by the host and answer questions on your device.
There is a free version, which will do for most of you. And of course, you can upgrade to a paid account for more features.
Go here to get all the details about Kahoot.
5. 8 More Zoom Youth Group Games
GO HERE to check out 8 more really great Zoom games, such as: Box of Lies, Mafia, True Facts, Rock Paper Scissors, Partners in Pen, Reverse Charades, and more.
Nick Diliberto, Ministry to Youth
Looking for youth ministry curriculum? Check out our …
EXCLUSIVE TEACHING CURRICULUM: Get one year of strategic teaching curriculum for youth ministry. Save 77% on $429 worth of new youth ministry lessons and games!