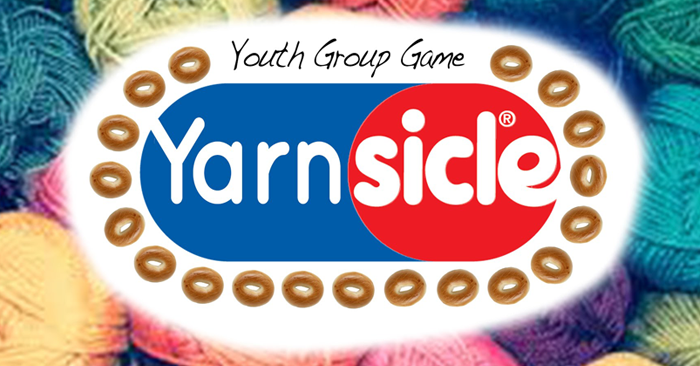 Youth Group Game on Easter
Bible: Romans 5:8, Luke 24:1-6(a), Romans 12:4-5 
Bottom Line: The Easter story is one of pure love and one that unites humanity to the heart of God.
EASTER YOUTH GROUP GAME: YARNSICLE
Watch the game in action for game instructions:
SUPPLIES:
1 roll of Yarn
1 spoon
1 bagel
After the game, say this:
Like the yarn weaving in and out of your clothes in the game we just played….
…Christians of all types and sizes are connected to each other through Jesus.
Regardless of our race, ethnicity, culture, gender or religion, we are all connected to each other through Jesus.
Believe it or not, the idea of all of us being connected to each other has a lot to do with Easter.
TEACH – EASTER
Why do you think Easter is such an important holiday?
Who can sum up the Easter story in 60 seconds or less?
(Pick one student to do this and use a timer to count down 60 seconds – then say, STOP!)
Good job! Thanks for sharing.
THE EASTER STORY IS REALLY A LOVE STORY.
Most people love a good old fashioned love story, don't they?
Guys and girls alike get all mushy when it comes to intimate romance movies that showcase the undying love of a man for his woman.
How many of you have seen a good love story movie? Who can name their favorite?
(Get a few students to respond.)
Maybe you can think of your own favorite love story, which does not have to be a movie. It can be the story about how your parents met or perhaps you may think you're in love with someone yourself.
Some of the best heart-felt memories were not created on a Hollywood screen.
For example, the one about a God who loved his people so much that he was willing to die for them, even while they were still committing sin and breaking his heart.
The Easter story displays God's love for you and I, a love so magnificent yet one we do not deserve.
As a matter of fact, the Bible says that there is no greater love (on this earth), than the love that would make someone lay down his life for his friend (John 15:13).
Read: Romans 5:8:
"But God demonstrates his own love for us in this: While we were still sinners, Christ died for us."
Jesus choose to go to the cross.
There is no greater love than that!
Then, he rose from the dead – overcoming death and sin.
Read Luke 24:1-6(a):
But on the first day of the week, at early dawn, they went to the tomb, taking the spices they had prepared. And they found the stone rolled away from the tomb, but when they went in they did not find the body of the Lord Jesus. While they were perplexed about this, behold, two men stood by them in dazzling apparel. And as they were frightened and bowed their faces to the ground, the men said to them, "Why do you seek the living among the dead? He is not here, but has risen.
Jesus died on the cross and rose from the dead so we could have a relationship with God. Why? Because he loves us that much!
Here's another love story, of a different kind.
Beware: The following story is graphic and painfully true! If it's too much for your group, then don't use it.
A modern day sacrificial type of love that was proven by a Syrian missionary, his 12-year-old son and a few devoted followers.
In October of 2015, CNN reported a story that broke the hearts of many.
On August 7th, ISIS militants captured several Christian workers in a village whose name is withheld for security reasons.
On August 28, the ISIS militants asked the Christian workers if they had renounced Islam for Christianity.
When the Christians said that they had, the rebels asked if they wanted to return to Islam.
The Christians said they would never renounce (reject or abandon) Christ. 
The 41-year-old team leader (the preacher), his young son and two ministry members in their 20s were questioned at one village site where ISIS militants had summoned a crowd.
The team leader presided over nine house churches he had helped to establish. His son was two months away from his 13th birthday.
In front of the team leader and relatives in the crowd, the Islamic extremists cut off the fingertips of the boy and severely beat him, telling his father they would stop the torture only if he, the father, returned to Islam.
When the team leader refused, relatives said, the ISIS militants also tortured and beat him and the two other ministry workers.
The three men and the boy then met their deaths in crucifixion.
"All were badly brutalized and then crucified," the ministry leader said. "They were left on their crosses for two days."
"No one was allowed to remove them." The martyrs died beside signs the ISIS militants had put up identifying them as "infidels."
Can you believe this?
These three men and a 12-year-old boy were beaten, and crucified before a crowd of relatives and onlookers.
Why? Because they refused to deny Christ!
Their love for God was so deeply rooted in their hearts that they were willing to go through the humiliation, the torture and the shame of a horrific death. Wow!
You'll probably never be put in this situation.
The only reason I tell it is to show you how much these people loved Jesus.
That kind of love is bigger than anything we could ever imagine!
God's love for us is HUGE! He showed that to us on the cross and at the resurrection. When we accept and experience his love, our natural response is to passionately love him back.
WE ARE ALL PART OF GOD'S FAMILY, WHICH IS A VERY BIG FAMILY!
Read Romans 12:4-5:
"For just as each of us has one body with many members, and these members do not all have the same function, so in Christ we, though many, form one body, and each member belongs to all the others.
What do you think this verse means? (Get a few responses)
The Easter story is one of pure love and one that unites humanity to the heart of God.
Christians everywhere are connected to each other through the love of Jesus.
He displayed that love on the cross, and at the resurrection he proved his power over death and sin.
Go back to the game we played earlier. All the players were connected to each other through the string.
When you leave here today keep that image in your mind.
Use it to remember how Christians everywhere are connected to each other through the love of Jesus.
If we're all connected to each other, then it's important to treat each other with love, kindness, forgiveness, and compassion.
Rather than with lust, greed, gossip, envy, etc.
Remember that the next time you're tempted to gossip, stay angry at, or put down a fellow Christian.
Together, we are one.
Relying on God's power and strength, it's possible to live together as one.
We can love each other like Jesus loves us!
End lesson.
DISCUSSION QUESTIONS
How would you define "love"?
What's difficult for you to grasp when it comes to God's love for you?
How have you experienced Jesus' love in your life?
Talk about a situation when someone else didn't show you love, compassion, or kindness (this shouldn't be too hard).
Talk about a situation you didn't show love towards someone else.
* Note: If you go first, students will be more likely to share.
Do you think it's really possible to love others, especially those who are mean to you? Why or why not?
NEED MORE EASTER RESOURCES FOR YOUR YOUTH GROUP?
View this Easter Youth Group Lesson. Main point: Empty is a Good Thing! Bible: Luke 24: 1-8; Mark 8: 31; Romans 6: 6-11
Check out this awesome Youth Group Game on Easter. It also includes a short Easter bible lesson.
If you're creating your own Easter message, you'll want to read this blog post: How to Make Your Easter Message Stick.
Closely related to Easter is the season of Lent. Check out this Youth Group Lesson on Lent.