HOW TO TALK TO TEENAGERS ABOUT RACE ISSUES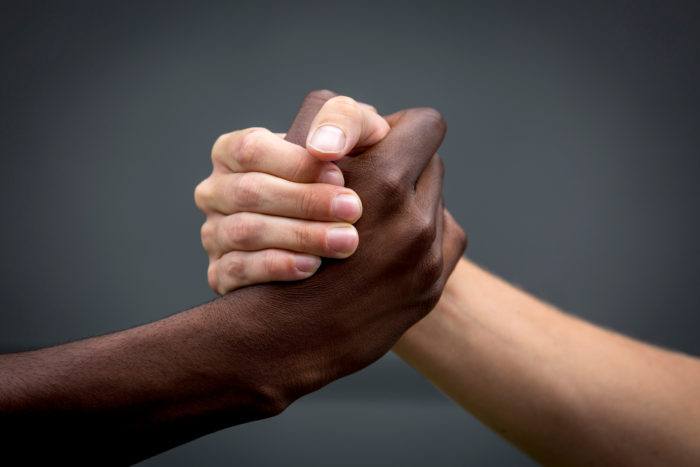 Written by Aaron Helman
DOWNLOAD PDF OF THIS BLOG POST
A few weeks ago, a handful of my students participated in peace rally in our community, a response to the recent events in Charlotte. I wasn't there. I didn't even know it was happening. I saw it on Instagram after the fact.
That's when it occurred to me. It had been a very long time since I'd had a very serious conversation in my youth ministry about race. It was time to do it.
But how?
#1. YOU HAVE TO HAVE THE CONVERSATION.
Your students are talking about racism in their circles, in their schools, and maybe even in their homes. This is an important issue for many teenagers today.
When youth ministry becomes silent about justice issues that are important to people, we'll lose a little bit of our relevancy.
More importantly, if the Church is silent about crucial and divisive issues, then we're leaving it to culture to inform and shape the beliefs of our students. We can't let that happen.
So yes, it's going to be difficult. But it's a conversation you need to be willing to have.
#2. DON'T WAIT.
Don't wait for the next national KKK rally or the next sensational news story to host your conversation.
Be proactive.
One of the difficulties with waiting is that your conversation about race instead becomes about whatever thing happened three days ago. Participants start debating the nuance of the incident in the news instead of the larger issue at hand. (See #6.)
Get out in front of the world. Don't lag behind it.
#3. COMMUNICATE CLEARLY THE BIBLICAL ABSOLUTES.
One of the crying shames about the world is that too often, they're not clear about the position of the Church on issues like racism. It seems like the answer should be obvious. Look at the Bible. The Bible's pretty clear on this one. Do you really have to say it out loud?
Yes. You have to say it out loud.
Not everyone knows the Bible as well as you wish they would.
Remember, the KKK claims as part of its founding to be a Christian organization. If we're not willing to claim clearly that racism is not an ideal of God, there are plenty of heretics who will claim loudly that it is.
#4. SEEK DIVERSITY.
If your ministry does not draw a diverse crowd, explore your network to find a group that does. Schedule a time to host a conversation together. You need first person voices to share stories about experiencing racism, not just secondhand stories from friends or articles that someone shared on a Facebook page.
I cannot underscore this point enough. If you want to have a real conversation about race, you've got to find a way to do it with an ethnically diverse group. You're not going to establish much of anything if you're at a table full of white people trying to describe what they think racism might feel like.
#5. ESTABLISH GROUND RULES.
Before opening the table to discussion, establish a clear protocol for your time together. You're looking to have a fruitful conversation, not a shouting match. You may have a set of ground rules you've used before during other powder keg moments. If you don't, try this protocol to encourage the beginning of a conversation without launching an argument.
Everyone writes down the thing they want to share.
The first time around, each person can share only once and only what they've already written down.
Do not respond to anyone else's sharing the first time around, just share what you wrote down.
This is a formality that might seem like it disrupts the natural flow of conversation, but it's a useful step that will prevent others from feeling targeted or attacked. If you'd like to continue in this style, the facilitator can ask questions based on the first round of sharing to trigger subsequent rounds of sharing.
#6. DON'T GET CAUGHT UP IN THE WEEDS.
Establish clearly that you're having a conversation about race, and that you don't desire to get caught up in piles of details that don't contribute to the discussion. For this reason, it might make sense to talk about race separate from the lens of current events.
Any conversation about Charlotte, for example, tends to turn into a conversation about the historicity of statues. You can't let that happen.
#7. FIND A COURSE OF ACTION GOING FORWARD.
Maybe your group would like to continue to host these conversations. Maybe there's a speaker or authority figure in your community who can share. Maybe your group had ideas that they'd like to implement to help bring about social justice.
No matter what you do, do something. Don't just have a good conversation about it then leave it alone. Equip your students to be peacemakers and kingdom-bringers, then send them out to do it.
#8. BE PREPARED TO FOLLOW UP.
No matter how well you facilitate the conversation, there's always the chance that one or more participants will leave the room feeling a little hurt, ignored, or attacked. That is not a reason not to have the conversation.
However, you should plan on following up one-on-one with students as you see fit. Ensure them that you care about them and that their voices do matter, even if they didn't feel like they were heard during the discussion.
Use the aftermath of these discussions as a teachable moment for students who became too hot-headed. Look for the giftedness of your students. Some of them might display an affinity for story-telling, peace-making, or teaching during your conversation.
#9 PRAY TOGETHER
No matter what, everyone holds hands and everyone prays together. Always.
Have you had this tough conversation in your youth ministry? How did it go? What would you do differently?
DOWNLOAD PDF OF THIS BLOG POST
Like this blog post? Then you'll like this one too…
HOW TO REACH THE MOST EXHAUSTED GENERATION IN HISTORY
Written by Aaron Helman. Aaron has been in youth ministry for over 15 years and is currently a youth pastor in South Bend, Indiana.