Youth Group Games: AirPong, Friendship Shake & Jelly Belly Roulette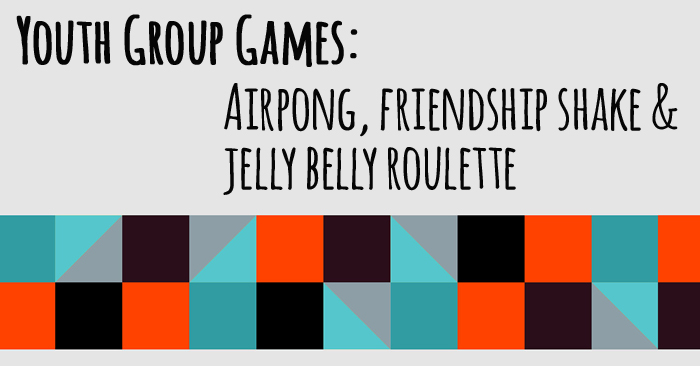 Here are three youth group games your students will love!
Enjoy!
AirPong
Supplies
2 Blindfolds
1 Ping Pong Ball
How to Play
Two students are blindfolded and sit across from each other.
Once they hear the ping pong drop they attempt to blow it off the other side.
Whichever player is successful wins that round. The best 2 out of 3 wins.
And if you want to pull one over on your students, then put flour down instead of the ping pong ball! Ha!!
Jelly Belly Roulette
Supplies
Bean Boozled Jelly Belly Beans (get them cheap on eBay)
Trash can(s)
How to Play
Give every student a Bean Boozled Jelly Belly.
Students eat them together.
If the student gets a nasty bean, sit down.
If the student gets a good one, stay standing.
Continue playing until one winner remains.
Friendship Shake
Supplies
A bunch of messy stuff (create your own)
Blender
Cups
How to Play
Have students team up with a friend.
One sits down and is blindfolded.
Have a bunch of ingredients while the friend chooses what the blindfolded player's shake will be.
Each friend has a turn creating the shake.
Once all the two shakes are made they both drink the shake all at once. Whichever one keeps the most down wins.
P.S. – Be sure to have trash cans nearby.
You could do this just for fun or use it as an opener on a lesson on friendships.
Like this game? Then you'll love these Youth Group Games on Video: Pole Grenade, Spell-i-oh's & Pipe Dream
Looking for youth ministry curriculum? Check out the…
ONE YEAR CURRICULUM, VOL 3 – Save 82% on one year of Bible studies and teaching curriculum for youth ministry.